The Most Evil Scene In Star Wars, According To Ian McDiarmid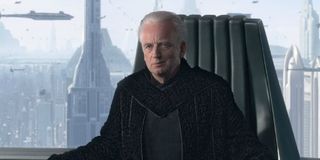 Star Wars's illustrious history is littered with some of the most iconic villains and evil scenes in cinema. Ian McDiarmid, who played one such character in the shape of Emperor Palpatine, has now admitted there was one scene in particular that he to be found especially wicked. So much so that he recently named it the most evil scene he can remember filming for Star Wars. The scene in question features Palpatine recalling the tragedy of Darth Plagueis The Wise to Anakin Skywalker (Hayden Christensen), and Ian McDiarmid loved that it gave him the opportunity to have a long stretch of dialogue where he got to be truly evil. Ian McDiarmid explained,
Well, that's a turn-up for the books. Not just because it's a scene that involves Hayden Christensen, but I personally assumed that Ian McDiarmid would pick Palpatine electrocuting Luke Skywalker before then being body-slammed to his death by Darth Vader as his number one choice. But, from an acting standpoint, you can understand why Ian McDiarmid picked out the scene from Revenge of the Sith in question, as it gave him a nefarious tale to sink his teeth into. Which he did with delicious aplomb. You can relive the scene in question, and marvel at Ian McDiarmid's supreme acting skills, below.
Ian McDiarmid made this admission during the 40 Years Of Star Wars Panel we attended at Star Wars Celebration, which is being held in Orlando, Florida, and, as its title suggests, is currently celebrating all things Star Wars. As well as being hosted by Warwick Davis, the panel also included George Lucas, Kathleen Kennedy, Harrison Ford, Billy Dee Williams, Mark Hamill, Peter Mayhew, and Antony Daniels, as well as a touching tribute to Carrie Fisher, and John Williams playing music from the film with a full live orchestra. The section in question featured plenty from Ian McDiarmid and Hayden Christiansen, but make sure that you stay glued to Cinema Blend over the next few days for further revelations from Star Wars Celebration. This will include numerous revelations from Star Wars: The Last Jedi, which will emerge when its panel is held at 11 a.m. ET on Friday April 14.
Your Daily Blend of Entertainment News