Why Hayden Christensen Mostly Quit Acting After Star Wars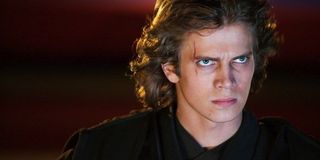 There are a number of issues that Star Wars fans like to pick on when it comes to the prequels, and one element that takes a lot of heat is Hayden Christensen's performance as Anakin Skywalker in Attack of the Clones and Revenge of the Sith. Though he'd been acting for more than a decade before his stint as the future Darth Vader, he dramatically scaled back his Hollywood career after Star Wars, appearing in only a handful of real movies, most notably Jumper.
As it turns out, it wasn't due to fan backlash against his turn as Anakin. Talking to Yahoo, he disclosed that it was more that he felt like hadn't earned his newfound status. He said:
Revenge of the Sith, the third Episode and final installment of the prequel trilogy, hit theaters in 2005. Over the next few years, he found time for Jumper and some others, but he also had a ton of downtime. In 2007, he bought a farm in Ontario, Canada, and spent a great deal of time renovating the property and learning about the day-to-day mechanics and operations of such an endeavor. (In 2013 he actually teamed up with Canadian retailer RW&Co to release a clothing line inspired by his farm.)
Though he's appeared in a few things here and there, the last few years have generally been quiet for Christensen. There's a substantial gap in his on screen resume from 2010 through 2014, though things have been getting busier over the last year or so. In 2014 he appeared with Nicolas Cage in the old timey adventure Outcast, as well as the crime actioner American Heist with Adrien Brody and Jordana Brewster, and last year he showed up in the faith-based drama 90 Minutes In Heaven.
Christensen seems to be pleased that he has a much lower profile these days, and though his roles may not be as big, it provides him with the opportunity to do things on his own and earn what he gets. He said:
Now that Star Wars: The Force Awakens is out and taking over the world, new information indicates that there was at some stage in the development process, an Anakin Skywalker scene in Episode VII. He would reportedly have shown up as a Force Ghost, though in what capacity and to who he would appear isn't known. But given that Hayden Christensen appears to be at ease with where his career is at the moment, perhaps it's for the best that it didn't happen.
Your Daily Blend of Entertainment News
Thank you for signing up to CinemaBlend. You will receive a verification email shortly.
There was a problem. Please refresh the page and try again.