The Awesome Surprise Star Wars Fans Got From Rian Johnson At Star Wars Celebration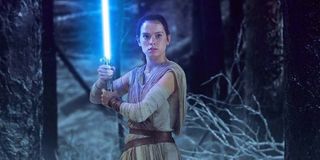 Star Wars fans camping out overnight, sleeping on the -- let's call it uncomfortable -- floor of the Orange County Convention Center, were treated to an amazing surprise when Star Wars: The Last Jedi director Rian Johnson showed up in the dead of night and greeted them. And by that, I mean, he walked through the line and met them all, one by one!
These Star Wars surprises have occurred in the past, with Kathleen Kennedy surprising Anaheim attendees with pizzas as a recent example, but this one takes the cake. Rian Johnson is an active voice on social media, interacting with fans and critics alike on a regular basis. But taking the valuable time to interact with the Star Wars fans who are camping out to get into his panel for the wildly anticipated Star Wars: The Last Jedi? That's beyond special. What an amazing dude.
Needless to say, the visit by Rian Johnson went over really well with Star Wars fans:
Well put. This guy got autographs:
And this guy got pictures:
By all accounts, Rian Johnson spent the better part of three hours signing, talking, and taking pictures with fans. The wait to get into the Orange County Convention Center for Star Wars Celebration has been a challenge. Fans are getting into long lines and spending hours waiting to get wristbands so that they can get into ANOTHER line before a panel starts.
Gestures like this, from incredible filmmakers like Rian Johnson, show that Star Wars supports its fans as much as they support the Saga. And when you see it happen in real life, it's a welcome reminder of how truly special Star Wars is, and always will be.
Our coverage of this year's Star Wars Celebration continues today with the Star Wars: The Last Jedi panel. You can also go here for more on our coverage from the event.
Movie junkie. Infatuated with comic-book films. ReelBlend cohost. Resident dad. Extroverted introvert. Wants to see the Snyder Cut. Managing Director at CinemaBlend.
Your Daily Blend of Entertainment News
Thank you for signing up to CinemaBlend. You will receive a verification email shortly.
There was a problem. Please refresh the page and try again.