The Biggest Challenge To Filming The Fate Of The Furious' Prison Break Scene, According To The Director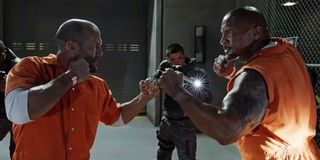 When you have action titans the size of Jason Statham and Dwayne Johnson on your roster, it would be sacrilegious not to pit them against each other. The fact that Furious 7 did just that with such aplomb meant that The Fate Of The Furious had the arduous task of trying to top their past scrap. It speaks volumes of F. Gary Gray's direction and the way that The Fast And Furious franchise is always able to eclipse its past efforts that Fate managed to do just that. Gray has now provided further details on Fate's prison break sequence, explaining how he managed to make it feel so fresh and unique. The filmmaker remarked:
F Gary Gray made this admission to me at the start of the month when I sat down to speak to the director about The Fate Of The Furious. The Rock and Jason Statham's bout of fisticuffs is actually a perfect addition to the film's copious amount of other action sequences, which primarily involve automobiles. That's in no way a complaint, because watching Dominic Toretto drive an enflamed car backwards, New York City being terrorized by thousands of remote controlled cars and the gang outdriving a rogue submarine on ice is exactly what makes The Fast And The Furious films so damn watchable and entertaining. At the same time, though, it's always nice to mix it up a little.
The manner in which Dwayne Johnson's Luke Hobbs and Jason Statham's Deckard Shaw spar with each other, both physically and verbally, has already led to calls and speculation of a spin-off film for the pair. The potential success of Fate Of The Furious, which is expected to rival Furious 7 as the most successful installment to the franchise yet, could soon see that become a reality. In the meantime, though, you can watch this exclusive clip of Dwayne Johnson' Hobbs entering prison for the very first time in Fate Of The Furious, where he immediately confronts Scott Eastwood.
If you want to see what happens next, you can head straight to your local theater right now, because The Fate Of The Furious has just been released.
Your Daily Blend of Entertainment News
Thank you for signing up to CinemaBlend. You will receive a verification email shortly.
There was a problem. Please refresh the page and try again.