5 Lessons Other Movie Universes Need To Learn From The Fast & The Furious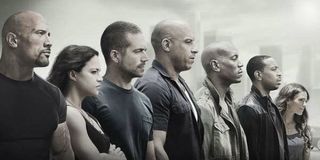 With The Fate of the Furious set to debut in theaters this weekend, we're all strapped in and ready to ride again with everyone's favorite crew of drivers, thieves, and all-around misfits. The Fast and Furious franchise has come a long way since its humble beginnings in 2001, and the series has slowly but surely become one of Hollywood's most important cash cows. Even after the tragic passing of Paul Walker in 2013, nothing can manage to slow the franchise down.
As bizarre as it may seem, the overwhelming success of the Fast and Furious has created many lessons that other modern film franchise could benefit from. On that note, we have gone through the long history of the franchise and compiled a list of vital lessons that other blockbusters should take away from the success of Dominic Toretto (Vin Diesel) and his crew. First and foremost, let's get started by addressing the eclectic and diverse nature of the franchise's central cast.
Embrace Diverse Ensembles Of Heroes
The need for diversity in modern blockbuster films is a hot button issue that will incite all sorts of passionate arguments from the corners of the Internet, but the simple fact of the matter is that diversity is a proven box office commodity. With that in mind, no other major blockbuster franchise has managed to incorporate a more diverse ensemble of characters into its stories -- whether it be cultural, racial, gender, or any other form of diversity. By introducing heroes and villains from all walks of life, the Fast and Furious series has allowed itself to cast an incredibly wide audience net, and that net has translated into some serious box office numbers in recent years.
Model Your Idea Off Another Movie Or Franchise That Works
They say that imitation is the highest form of flattery, and if that's true, then it must mean that everyone involved in the production of the original Fast and Furious movie must've had quite the affection for Point Break. There's nothing inherently wrong with cribbing ideas from a proven formula for success, and The Fast and the Furious proved that the core DNA from another classic story could serve as a perfect inspiration and launching point for a bigger franchise. That's a valuable lesson to endow to other burgeoning franchises: it never hurts to fall back on a proven model success in order to set up more original stories further down the line.
Find Ways To Innovate From That Original Idea
Building off of that idea, the Fast and Furious franchise stands apart from the other leading blockbuster series for the way which is was able to innovate and carve out its niche once it managed to find its footing. Using the Point Break model as a starting point, the series gradually moved away from established archetypes and started incorporating more original characters and stories into its overarching narrative with each passing film. This is a perfect example of why straight remakes are seldom a good idea. By serving as a recreation of Point Break without actually using the Point Break name, the Fast and Furious series built its own identity and audience.
Use Every Film To Build On The Mythology Of The Universe
The Fast and Furious franchise has somehow managed to develop some of the strongest continuity of any major blockbuster film series outside of the superhero genre. Much of this has to do with retconning, as new installments in the series have gradually explained plot holes or seemingly insignificant moments from earlier films. No set of characters has epitomized that more than the Shaw Brothers. Despite the fact that neither of them showed up until the sixth installment in the film, we can now look back on earlier films in the franchise and see how they have played a role every Fast and Furious movie since Tokyo Drift. That's some damn fine retconning if you ask me.
Never Stray From The Core Theme Of The Franchise
Throughout all of the crazy adventures, the Fast and Furious franchise has seldom lost sight of its core thematic premise: family over everything else. Although that idea has also become something of a running joke among online forums, such a specific and strict adherence to a simple idea has allowed the Fast and Furious series to maintain its core integrity. The concept of family crosses cultural barriers and national borders, and centering each of these globetrotting adventures on ideas like loyalty and love has made it possible for these films to cast the widest possible net. No matter who you are, you know what these films are about.
We will have to wait and see whether or not The Fate of the Furious can continue endowing lessons to other blockbuster franchises when it makes its grand theatrical debut on April 14.
Your Daily Blend of Entertainment News
Originally from Connecticut, Conner grew up in San Diego and graduated from Chapman University in 2014. He now lives in Los Angeles working in and around the entertainment industry and can mostly be found binging horror movies and chugging coffee.
Your Daily Blend of Entertainment News
Thank you for signing up to CinemaBlend. You will receive a verification email shortly.
There was a problem. Please refresh the page and try again.