What Happened That Time Mark Hamill And Carrie Fisher Watched The Original Star Wars Trailer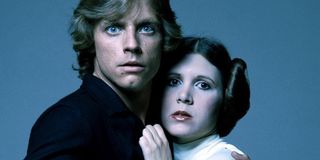 It's been forty years since Star Wars: A New Hope first hit theaters, but veteran actor Mark Hamill can still remember the months leading up to the release of the George Lucas classic. While these days Star Wars is well-known and well-liked with an avid fanbase, the future of A New Hope wasn't always so clear. In fact, prior to the release of Star Wars: A New Hope, Mark Hamill and Carrie Fisher went to a theater to catch the trailer, and the response they got was a bit overwhelming.
When the trailer for Star Wars first hit theaters, Carrie Fisher and Mark Hamill decided to try their luck and see if a theater would let them in. According to Mark Hamill, the two talked to the manager of the theater and asked if they could get in just to catch the trailer after they told the manager they would be starring in the movie. Things were going well at first, and they got to see the slogan " a billion light years in the making" and coming to theaters pop up at the end. But that's when the heckling happened. As Hamill noted the heckler hollered,
Luckily, it all worked out, despite the fact the trailer was maybe a little bit cheesy and even included Chewbacca wearing headphones. According to what Hamill said at Star Wars celebration (via Variety), the original trailer was also missing John Williams' music, so maybe it didn't really highlight the movie's strong points. This isn't really a surprise, as it's a rather well-known fact that 20th Century Fox didn't throw in a ton of money to market the movie back in the late seventies. Still, despite having a small release initially, Star Wars: A New Hope went on to be a big hit, landing subsequent theatrical releases and still making a mark on cinema today.
It was Carrie Fisher's idea to get into the theater to catch the trailer, although both of them probably regretted doing it for a short time after. Hopefully, the two soon-to-be stars didn't have to wait too long between the time the trailer hit theaters to the time the movie hit theaters to find out how it would fare. After that experience, though, any amount of time might have felt like a long wait.
It's a little bittersweet to hear these wonderful stories about Mark Hamill and Carrie Fisher these days. Doubtless the actress would have wanted to be around for this past week's big Star Wars extravaganza. She was always good for a fun presence onstage at these sorts of events. Luckily, we'll get to see her immortalized on film when Star Wars: The Last Jedi hits theaters around the holiday. In anticipation, take a look at the full trailer for the upcoming film.
Reality TV fan with a pinch of Disney fairy dust thrown in. Theme park junkie. If you've created a rom-com I've probably watched it.
Your Daily Blend of Entertainment News
Thank you for signing up to CinemaBlend. You will receive a verification email shortly.
There was a problem. Please refresh the page and try again.