Why Mel Gibson Threw An Ashtray Through A Wall During Braveheart Negotiations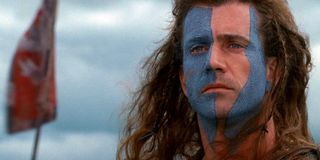 You do not have to do too much research into the business side of Hollywood to find out that it is a cutthroat industry. Negotiations can get somewhat heated, and tempers can flare. We have heard some horror stories about the negotiation processes for some pretty high profile movies over the years, but a new story about Mel Gibson throwing an ashtray through a wall when he didn't get enough money to make Braveheart easily takes the cake. Gibson explained:
Mel Gibson is not a man who is known for subtlety in the film industry, so his reaction to not getting the budget that he wanted for Braveheart feels pretty spot-on for his public persona. His recent comments to THR pretty much confirm everything that we have come to expect from him. 20th Century Fox had already agreed to stake two-thirds of the film's budget, but when Paramount fell short of providing enough money to complete the movie properly, Gibson made it clear to them that he was not messing around. He admittedly made many professional sacrifices to take part in the film, so his frustration is understandable, to say the least.
They really should've known who they were dealing with; after all, at that point, Gibson's two most iconic roles were Mad Max and Martin Riggs -- two characters who aren't exactly known for dealing with conflict peacefully. In the end, Mel Gibson's negotiating tactics ultimately paid off. Paramount provided the money that he needed to complete Braveheart, and the film went on to become a huge success. Grossing $210 million worldwide against a $72 million budget (which is paltry by today's standards) Braveheart went on to receive ten total Oscar nominations and five wins -- including Best Director and Best Picture. The film catapulted Mel Gibson to the status of legitimate filmmaker and converted him into one of Hollywood's most beloved auteurs.
Even in the face of his personal struggles, his work in the years since Braveheart debuted has remained top notch. Following a similarly strong performance for Hacksaw Ridge during the 2016-2017 awards season, Mel Gibson has once again become a top contender for a wide variety of high-profile blockbuster projects. In particular, he has become a notable frontrunner to step behind the camera for DC's Suicide Squad 2. Although no definitive decision has been made yet by Warner Bros., given his history for flying off of the handle during business meetings, it's hard to ignore the fact that he seems like the right guy to take on Task Force X's next mission. He has that special kind of crazy that will be able to handle Jared Leto's Joker, and that's really saying something.
Ultimately, I think that there is one major takeaway from this story: don't play hardball with Mel Gibson, and if you do, make sure that there are no ashtrays in the room.
Originally from Connecticut, Conner grew up in San Diego and graduated from Chapman University in 2014. He now lives in Los Angeles working in and around the entertainment industry and can mostly be found binging horror movies and chugging coffee.
Your Daily Blend of Entertainment News
Thank you for signing up to CinemaBlend. You will receive a verification email shortly.
There was a problem. Please refresh the page and try again.