Why Mel Gibson Is A Perfect Choice For Suicide Squad 2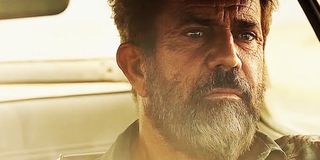 Just in case you haven't already heard, Mel Gibson is reportedly being considered to helm Suicide Squad 2 -- which was recently announced along with Gotham City Sirens and a Deadshot solo movie. The franchise came into existence under the guidance of David Ayer last summer, but now it appears that Warner Bros. and DC want to enlist the talents of this Hollywood icon. Make no mistake, Gibson may have become a polarizing figure in recent years, but there is absolutely no questioning the fact that this guy knows how to direct the hell out of a movie.
On that note, we have put together a list of reasons why Mel Gibson may actually be the perfect choice to take control of this highly anticipated Suicide Squad sequel. Take a look at our ideas, and make sure to let us know what you think of this recent development in the comments section below. Now, let's get the ball rolling with the thing that makes the world go round and round: money.
He Knows How To Work On A Low Budget
David Ayer directed the original Suicide Squad for a staggering $175 million price tag. By contrast, Mel Gibson directed Hacksaw Ridge (a full-blown war movie) for a comparatively small $40 million. You would never even notice how cheaply made Hacksaw is because Gibson knows how to stretch a dollar and work within a small budget. With that in mind, DC could take a page from the Deadpool handbook by lowering the price tag for Suicide Squad 2, handing more creative control over to Gibson and letting him work his magic on the story. With such a minimal financial investment, the potential for success becomes exponentially greater than the first installment in the franchise with considerably less of the risk.
He Brings Much-Needed Prestige To The DCEU
This point echoes a sentiment that we've talked about numerous times with regards to Ben Affleck's involvement in the DCEU: the silver screen DC universe needs more talented filmmakers attached to its projects. This isn't quite as important for a competitor like Marvel because the Marvel Cinematic Universe is a "producer-driven" environment -- meaning guys like Kevin Feige hold power. By contrast, the DCEU has touted itself as a more "filmmaker-driven" auteur landscape, but it hasn't lived up to that namesake yet. Mel Gibson is a big name director with a distinctive style and a unique creative vision for all of his films. Suicide Squad 2 will look and feel like a Mel Gibson movie if he takes the reins, and that level of prestige can only help DC at this stage.
He's An Actor's Director
Although he has become known as one of Hollywood's leading directors in recent years, Mel Gibson is, first and foremost, an actor. He has consistently delivered strong performances over the course of his lengthy career, and he has always managed to get equally phenomenal performances out of his actors. As faithful as Margot Robbie and Will Smith are to their respective roles as Harley Quinn and Floyd Lawton in the original Suicide Squad, the fact of the matter is that the film doesn't really feature any stand-out performances from anyone in the core ensemble. If any modern director has the ability to cut through the ridiculousness and find an emotional through line to expand upon this admittedly bizarre DC story, it's Mel Gibson.
He Knows How To Shoot Violence And Action
There is one concept that is a constant in all of Mel Gibson's movies: violence. He's just known for buckets of blood that delightfully splash across the screen. Even his most recent film (which centered on a pacifist unwilling to harm his enemies) featured some truly spectacular action sequences, and it's clear that Gibson has an eye for blood and gore in his movies. It seems doubtful that DC or Warner Bros. will ever allow him to make an R-rated Suicide Squad film (as great as that sounds), but the fact remains that Gibson knows how to shoot well-orchestrated action sequences that are brutal, coherent and (most importantly) practical. After the nonsensical and completely sanitized CGI mess that was the first Suicide Squad, that's something worth getting excited about.
He Doesn't Like Traditional Comic Book Movies
In the same way that Amanda Waller enlists the skills of the DC universe's worst bad guys to "do some good." DC and Warner Bros. should recruit the considerable directing talents of Mel Gibson specifically because he is the antithesis of a superhero movie director. He has made no secret of his personal distaste for the genre, and he is even on record referring to Batman V Superman: Dawn of Justice as a "piece of shit." This is a guy who does not particularly care for superhero movies, and as such we can reasonably expect him to take an off-kilter approach to Suicide Squad 2 that doesn't fall into the traditional trappings and conventions of the genre. That's the out of left field approach this movie needs.
Your Daily Blend of Entertainment News
Originally from Connecticut, Conner grew up in San Diego and graduated from Chapman University in 2014. He now lives in Los Angeles working in and around the entertainment industry and can mostly be found binging horror movies and chugging coffee.
Your Daily Blend of Entertainment News
Thank you for signing up to CinemaBlend. You will receive a verification email shortly.
There was a problem. Please refresh the page and try again.