Why Richard Gere Doesn't Take Roles In Big Movies Anymore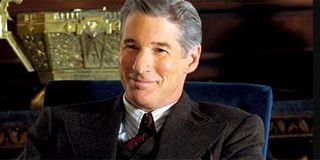 There was a time when Richard Gere was the silver fox we talked about and not Anderson Cooper. It's not that Richard Gere has stopped acting, of course, but he has slowed down in regards to taking roles in prominent, bigger budget movies. He recently explained why he doesn't sign on for roles in big budget movies anymore, taking a bit of a shot at the new Star Wars movies in the process. He said:
Richard Gere is right when he says he has headlined a slew of movies that have made him a ton of money over the years. He's probably still most known for Pretty Woman, but over the years he took plenty of big movies that paid well including stuff like The Mothman Prophecies, Runaway Bride and Chicago and even older flicks like An Officer and a Gentleman. When you consider he got $2 million bucks for The Cotton Club (which lost money at the box office), it's easy to see how the money added up. Although he doesn't expressly tell THR this, we also know that Richard Gere has a pretty high net worth overall; when his divorce was getting finalized, he sold his home in the Hamptons for $33 million dollars. He has also been reported to be worth $120 million-250 million in total, so he's not working to pay the bills like Kevin Bacon is these days.
So, yes, he can take whatever roles he wants, and those roles will definitely not include anything in the Star Wars franchise, so I really hope you weren't harboring any dreams of the 68-year-old brandishing a lightsaber at any point. I wouldn't expect him to get too jazzed about any big budget tentpole movies, honestly, as those often come with a lot of work and a huge marketing push. It's not as if these smaller roles have completely lacked success, however. People really liked him in Arbitrage, which became a highly successful VOD release. In addition, he also had a really memorable turn in The Second Best Exotic Marigold Hotel, so it's not like he's avoiding the big screen completely. He just doesn't need to throw on spandex or do any action sequences. Then again, that was never really Richard Gere's jam, anyway.
You can next catch Richard Gere in Oren Moverman's The Dinner, which also stars Laura Linney, Steve Coogan, Rebecca Hall and Chloe Sevigny. The flick is hitting theaters in May of this year. And of course, you can take a look at what the Star Wars franchise, which again will be very much sans Richard Gere, with our full guide.
Amazing Race & Top Chef superfan with a pinch of Disney fairy dust thrown in. If you've created a rom-com I've probably watched it.
Your Daily Blend of Entertainment News
Thank you for signing up to CinemaBlend. You will receive a verification email shortly.
There was a problem. Please refresh the page and try again.