One Big Reason Wonder Woman's Summer Release Is Exceptional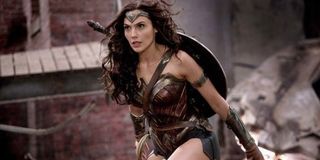 There's an awful lot of pressure on Wonder Woman to succeed at the box office later this summer. Not just because the DC Extended Universe is in desperate need of a critical hit, but because it is a very rare example of a female director being given a budget of over $100 million to work her magic on the big-screen. Patty Jenkins is the filmmaker that has been tasked with overseeing Wonder Woman, and in the process she has become just the second ever female to be provided with a nine figure sum.
Kathryn Bigelow was actually the first even female director to be trusted with $100 million budget, which she used to bring K-19: The Widowmaker back in 2002. Unfortunately things didn't end too well for the director on this film, as it grossed just $65.7 million and was met with middling reviews. However, Kathryn Bigelow was able to right this wrong with her 2009 follow-up The Hurt Locker, which saw her become the first female director to win the Academy Award for Best Director, while her 2012 film Zero Dark Thirty is widely regarded as a modern masterpiece and grossed $132.8 million from its $40 million budget.
The fact that Kathryn Bigelow has her own film coming out this summer, in the shape of Detroit, proves that Hollywood has actually started to right the wrong of the lack of female directors in the industry. Not only will Ava DuVernay's A Wrinkle In Time, Niki Caro's Mulan, and co-director Anna Borden's Captain Marvel see them become the third, fourth, and fifth female directors to be trusted with $100 million plus budgets, but, as the Associated Press also pointed out, this summer will see Stella Meghie's Everything, Everything, Lucia Aniello's Rough Night, and Sofia Coppola's The Beguiled released alongside Katrhyn Bigelow's Detroit and Patty Jenkins's Wonder Woman.
Out of all of these releases, Patty Jenkin's Wonder Woman is the film with the most pressure on its back, especially because the last two female led superhero blockbusters proved to be such critical and financial disasters. 2004's Catwoman is widely admonished as one of the worst films ever released, and grossed just $82.1 million from its $100 million budget; Elektra didn't fare much better when it was released in 2005, grossing only $56.7 million and garnering negative reviews. Rather than trying to fix the issues with these films, Hollywood studios seemingly decided to just put the blame on the fact their superheroes were female, and subsequently avoided making solo films for similar characters since.
Considering just how successful and prevalent the genre has been over the last decade, that's frankly embarrassing. Especially since the early glimpses at Wonder Woman suggests that Patty Jenkins and Gal Gadot have created a fresh and action-packed take on both the character and the genre, something that the blockbuster will hopefully be able to build on when it's eventually released. You can fawn over the footage for Wonder Woman by checking out its trailer below.
We'll get to see if Wonder Woman can match the above when it's released on June 2, 2017. I know I'm rooting for it to succeed.
Your Daily Blend of Entertainment News
Thank you for signing up to CinemaBlend. You will receive a verification email shortly.
There was a problem. Please refresh the page and try again.