9 Female Directors Star Wars Needs To Consider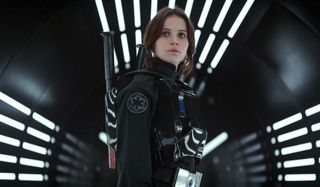 Lucasfilm head Kathleen Kennedy recently made comments that made it sound like there simply weren't enough women directors out there at the right level to handle directing a Star Wars movies. While the task may be tough, it's not impossible. Simply because most women aren't given the chance to direct blockbuster features doesn't mean that there aren't plenty who have shown the skills to handle it.
To be clear, we have no idea if any of these women would want to direct a Star Wars movie if given the chance. Maybe they've been asked and have already turned the job down. But if we were going to look for women who were already accomplished directors and capable of handling big-budget movies, here's where we would look first.
Michelle MacLaren
It used to be that directing television was leaps and bounds away from directing movies. For many shows, that's simply not the case anymore. Series like The Walking Dead and Game of Thrones are just as involved as any feature-length movie. Michelle MacLaren has directed episodes of every major TV series you can think of, and in many cases, she's handled several, including the recent finale of Westworld. These are shows with major budgets for both digital and practical effects, that require handling filming in multiple locations with numerous characters. If she can handle directing back to back episodes of Game of Thrones, she can make a movie.
S.J. Clarkson
While Marvel has received a lot of credit for their cinematic universe on the big screen, their TV efforts on Netflix have received nearly universal acclaim. S.J. Clarkson was the director tasked with setting the tone of Jessica Jones when she was put in charge of the first two episodes. Marvel apparently thought she did such a good job that she's been brought back to do the same thing with The Defenders. She can take existing characters within a universe and put her own spin on them, while making a spectacular show that gets viewed like a movie anyway.
Rachel Talalay
Just like a TV season can open like a movie, it can also close like one. The BBC has brought Rachel Talalay in to help close out two consecutive seasons of Doctor Who by doing back-to-back episodes both times. She'll also be directing an episode of Sherlock next season, and those are essentially movies. Add to that the fact that she directed several episodes of the CW's various superhero shows and she clearly has an eye for the material like Star Wars. Plus she directed Tank Girl, which is both awesome and had a budget that would be equal to $40 million today. That's no small change.
Mimi Leder
While seeing women direct major summer movies is unusual, it has happened. Mimi Leder directed both Deep Impact and the George Clooney-led action film The Peacemaker in the mid-1990s. While Deep Impact may have been the more cerebral of the "asteroid hitting earth" movies, when compared to Michael Bay's Armageddon, it wasn't entirely without its own blockbuster elements. While Leder has been focused more on TV in recent years, we wouldn't be averse to see her return to the big screen and bring that intelligence to the galaxy far, far, away.
Kathryn Bigelow
Kathryn Bigelow may have never done a big special effects blockbuster like her ex-husband, James Cameron. She doesn't need to do so to have the credibility. She's won an Oscar for directing, nothing else need be said. Bigelow is a great director who has made great movies and we have no doubt that if she ever wanted to make a summer blockbuster, she could do it. The only difficulty here might be convincing her to do it, but with the variety of different kinds of Star Wars movies we may see in the future, there's a chance something could come along that might interest her.
Patty Jenkins
The next best thing to winning an Oscar for directing is directing somebody else to one. Patty Jenkins did that when she directed her first motion picture, Monster, starring Charlize Theron. That was more than 10 years ago, however. Today, Jenkins has exactly the sort of resume that Lucasfilm must be looking for. She's directed a big budget comic book movie, Wonder Woman, that will be out next year. Even if it doesn't live up to the hype, it will likely propel Jenkins into the top tier of directors. At least, it should. She's got to be on the Lucasfilm radar at this point.
Gwyneth Horder-Payton
If you are looking for a new job, it helps to have connections within the organization. Maybe that will cause Disney to give Gwyneth Horder-Payton a look. She directed several episodes of Once Upon A Time for ABC. However, she's also directed multiple episodes of The Walking Dead and Sons of Anarchy. She's also been able to show that she's capable of working over the long haul, as the first assistant director on over 30 episodes of The Shield. The dues have certainly been paid, and a certain point you have to give a person a chance to prove they can succeed.
Ava DuVernay
Ava DuVernay is, we suppose, the poster child for exactly what Kathleen Kennedy says she's looking for. Selma was DuVernay's first major motion picture after working in television, but she knocked it out of the park. It was nominated for numerous awards and won several of them. Now, Ava DuVernay will be the first woman of color to direct a movie with a budget over $100 million, Disney's A Wrinkle in Time. Will this film then act as the stepping stone to even bigger projects? We'd certainly love to see it, and we're guessing that if DuVernay wants a _Star Wars _ move after her current project, she can probably get one.
Jennifer Lee
One of the reasons that Kathleen Kennedy says that finding directors is hard is because Star Wars films are these massive undertakings with lots of moving parts that need to be managed. So is every animated feature ever made, so why not look to the woman who helped direct the most successful one ever? Frozen had a budget of $150 million and it's one of the top 10 highest grossing movies ever made. Jennifer Lee was the first woman to helm one of Disney's animated features. If she ever wants to make the jump to live action, there's no reason to believe she can't do just as well.
CinemaBlend's resident theme park junkie and amateur Disney historian. Armchair Imagineer. Epcot Stan. Future Club 33 Member.