Why Guy Ritchie Had To Make A Major Change To The Opening Of King Arthur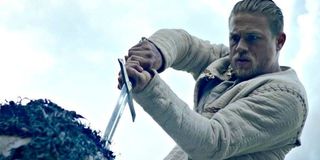 While there have been countless variations on King Arthur tales ever since the mythical figure first became popular hundreds of years ago, there really hasn't been one quite like Guy Ritchie's take on the character in Legend Of The Sword. The Lock, Stock And Two Smoking Barrels and Snatch director hasn't changed his ways in the slightest for the film, and its star Charlie Hunnam has now provided further information on the director's process behind creating such energetic and vivid films. Charlie Hunnam has insisted that a lot of this magic is created during editing, even explaining how one of the opening scenes for King Arthur: Legend Of The Sword was actually condensed down from 30 or 40 minutes worth of footage in order to be zippier.
It just so happens that the scene in question, which--minor spoilers--sees Arthur and his pals Backlack (Neil Maskell) and Wetstick (Kingsley Ben-Adir) recalling how they confronted a group of Vikings to Jack's Eye (Michael McElhatton), is actually one of the finest in the movie, too. Charlie Hunnam explained the major change to the opening, noting,
It all goes to show that movie magic really can be created from any number of circumstances and angles, while the scene itself does an important job in setting up the tone and rhythm of King Arthur: Legend Of The Sword. You can actually check out a snippet from my interview with Charlie Hunnam regarding King Arthur: Legend Of The Sword below.
Those of you contemplating going to the see the fantasy epic should have a quick read of my review for King Arthur: Legend Of The Sword to whet your appetite, or check out the full trailer for the flick.
On the bright side, King Arthur: Legend Of The Sword isn't too far away, as it will be in cinemas from May 12, while you should keep glued to CinemaBlend over the next few days for further revelations from my chats with both Charlie Hunnam and director Guy Ritchie.
Your Daily Blend of Entertainment News
Thank you for signing up to CinemaBlend. You will receive a verification email shortly.
There was a problem. Please refresh the page and try again.