This Rotten Week: Predicting King Arthur: Legend Of The Sword And Snatched Reviews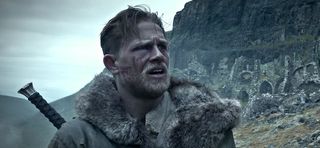 After a blockbuster week last time around with Guardians of the Galaxy Vol. 2, we get a week with a double dose of big releases. We get medieval with King Arthur: Legend of the Sword, and get kidnapped with Snatched. It's gonna be a Rotten Week!
Just remember, I'm not reviewing these movies, but rather predicting where they'll end up on the Tomatometer. Let's take a look at This Rotten Week has to offer.
Imagine if all it took was pulling a sword out of a stone to become the king of a whole country. It would surely cut down on some our current political strife, that's for sure. But so goes the legend of King Arthur, who pulls Excalibur out of a rock and takes over England. This updated version of the story stars Charlie Hunnam as the titular character along with an all-star cast (taken some from Game of Thrones) and gets the Guy Ritchie-frenetic pacing treatment. It looks entertaining with some bigger spectacle scenes and a somewhat comedic bent Ritchie is known for.
We catch King Arthur as he's coming up on the mean medieval streets before he's actually started his reign. With Legend of the Sword, Ritchie looks like he's made a fun watch, and he's of course had plenty of directorial success. The Man From U.N.C.L.E. (67%), Sherlock Holmes (70%) and RocknRolla (59%) come to mind though he's not immune from a dud, like Revolver (17%). I doubt this latest blows anyone away but likely lands right in range of his previous work.
As if going on a vacation with just your mom wasn't bad enough, now throw in getting kidnapped on top of it. Brutal. But that's Amy Schumer and Goldie Hawn's issue in Snatched when they are taken hostage in South America. It's a comedy through and through, which leaves it in an awkward spot with critics. Straight, just for laughs flicks can struggle on the Tomatometer if the story doesn't land. There's reason to think positive on this one, though. Amy Schumer carried Trainwreck (85%) and has a snarky screen presence that helps with the off-color jokes and delivery.
Then there's director Jonathan Levine, who's helmed The Night Before (66%), Warm Bodies (80%) and 50/50 (94%). Now those were all different kinds of comedies. All had a little extra weight to them, and weren't necessarily in exactly the same genre as we're getting with this latest. But they were all solid films, and he has a good track record. This one will likely fall below those others, but there should be enough laughs to keep it around the middle.
We only had one movie on the docket last week, but it was a big one. Guardians of the Galaxy Vol. 2 (Predicted: 85% Actual: 81%) landed right in range, though I can't take a ton of credit for the accuracy considering how many reviews were in at the time of the post. The second flick in the franchise lived up to the hype after the run away success of the first film. It came in a little under the 91% from the first, but a comic book movie up and over 80% is a damn fine achievement.
Some critics found some fault in the spectacle and thought the story didn't live up to the first one. This could be the curse of being compared to the first film which was legit great. All in all it was a solid follow up movie and another great add to the Marvel Cinematic Universe.
Next time around we've got Alien: Covenant, Diary of the Wimpy Kid: The Long Haul and Everything, Everything. It's gonna be a Rotten Week!
Doug began writing for CinemaBlend back when Terminator: The Sarah Connor Chronicles actually existed. Since then he's been writing This Rotten Week, predicting RottenTomatoes scores for movies you don't even remember for the better part of a decade. He can be found re-watching The Office for the infinity time.