How Much The Mummy Could Make During Opening Weekend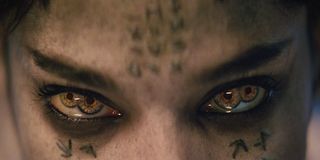 Universal is already collecting gigantic piles of money through the Fast and the Furious, Despicable Me and Jurassic Park franchises, but this summer, they're jumping into the cinematic universe game with The Mummy. The Tom Cruise-led feature will be the first installment set in a world filled with updated takes on classic Hollywood monsters. This reboot certainly has a lot riding on its shoulders to be successful, but there's also a lot of competition this summer blockbuster season, and right now, The Mummy is projected to make around $40 million its opening weekend.
The Mummy is currently tracking between $40-42 million for its domestic opening in early June, which THR describes as "modest." However, the article also noted that Universal still has three weeks left to make its final marketing push, which could increase those numbers depending on how successful the advertising is. The Mummy is also opening on the same day in almost all international markets (including China), and is predicted to do "substantially more business" in these territories.
This is by far the biggest movie opening the second weekend of June, but it will also have to contend with folks seeing blockbusters like Pirates of the Caribbean: Dead Men Tell No Tales and Wonder Woman a little later. Whether these other movies significantly cut into The Mummy's box office draw remains to be seen, but considering that this reboot cost $125 million to make before marketing, it needs to make a killing in theaters, so to speak. Keep in mind that The Mummy's performance will also determine how Universal moves forward with its Monsters cinematic universe. There are already a number of other entries in development, like Bride of Frankenstein and Creature from the Black Lagoon, but if The Mummy bombs big time, the studio could alter plans or completely reverse course. Remember how Dracula Untold was originally supposed to usher in this shared universe?
The Mummy reboot stars Sofia Boutella as the eponymous antagonist, an ancient Egyptian princess named Princess Ahmanet, who awakens in the modern day to unleash her vengeance after being betrayed and having the throne taken away from her. Tom Cruise is playing the main protagonist, Nick Morton, a solider whose life is permanently altered upon crossing paths with Ahmanet. The main cast also includes Annabelle Wallis as Jenny Halsey, Jake Johnson as Sergeant Vail, Courtney B. Vance as Colonel Greenway and Russell Crowe as Dr. Henry Jekyll.
While we count down the remaining days until The Mummy's release, check out the final trailer below to get your best taste yet on what the movie has to offer.
The Mummy hits theaters on June 9.
Connoisseur of Marvel, DC, Star Wars, John Wick, MonsterVerse and Doctor Who lore. He's aware he looks like Harry Potter and Clark Kent.
Your Daily Blend of Entertainment News
Thank you for signing up to CinemaBlend. You will receive a verification email shortly.
There was a problem. Please refresh the page and try again.