When DC's Cyborg Movie Likely Will Hit Theaters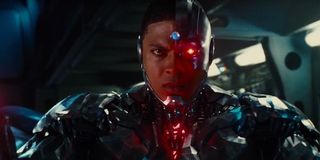 It has been a little hard to keep track of the plans for the DC Extended Universe in recent months, as rumors regarding the release of The Batman routinely appeared and disappeared seemingly every other week. But with one particular movie, it seems as though everything is still going according to plan, as Ray Fisher has now confirmed that the standalone Cyborg film will be released in 2020, which is exactly when it was scheduled to hit anyway. Ray Fisher made this admission at City Of Heroes comic convention over the weekend, and you can check out his remarks at the event below.
The problem for DC diehards is that Cyborg's originally touted release date of April 3, 2020, is still three years away. However, they can take solace in the fact that they will see Ray Fisher's Cyborg make his proper debut in the DC Extended Universe much sooner than that, as he will appear in Justice League, which will be released later this year. Of course, we already had a quick peek at the character in Batman v Superman: Dawn Of Justice, but that was only for a brief moment.
The powers that be over at the DC Extended Universe still have quite a lot to do before audiences can really get excited about Cyborg. That's because other than Ray Fisher as Cyborg and the always magnificent Joe Morton as Silas Stone, we don't actually have any other news about who will star in the blockbuster. What's even more surprising is that not too many names have even been linked to the film, which has only added to the speculation that Warner Bros might still be on the fence about actually releasing it.
Clearly that's not the case at the moment. But things can change rather quickly in the movie world, and when you take a look at the lukewarm reaction to the DC Extended Universe's recent releases, you can understand why they might not want to look too far ahead. The release and hopefully the success of Wonder Woman later this summer should encourage them to double down on their efforts. Thankfully the early word of mouth regarding Wonder Woman is hugely positive, and some critics have even labelled it the best installment yet to the DC Extended Universe.
We'll see if that's the case when Wonder Woman is finally released on June 2, while Justice League will follow before the year is out on November 17. That's the point when the DC Extended Universe will decide whether to stick or twist, because Aquaman is scheduled to hit on December 21, 2018, Shazam on April 5, 2019, then Cyborg on April 3, 2020 and Green Lantern Corps on July 24, 2020. Considering that Aquaman is already shooting, you'd imagine that they're still relatively confident in the franchise, which is unsurprising considering that, despite its critical shellacking, the DC Extended Universe has so far grossed $2.228 billion at the box office from just three films.
Your Daily Blend of Entertainment News
Thank you for signing up to CinemaBlend. You will receive a verification email shortly.
There was a problem. Please refresh the page and try again.