One Person Quentin Tarantino Really Did Not Want To Audition For Inglorious Basterds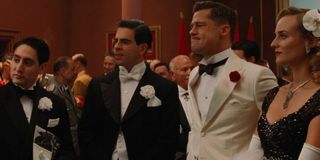 Inglorious Basterds possesses a pretty impressive ensemble of actors. Not only does it star Brad Pitt, Melanie Laurent, Eli Roth, Daniel Bruhl, Diane Kruger, and Michael Fassbender, but Christoph Waltz picked up a Best Supporting Actor Academy Award for his efforts, too. However, it turns out that there was one member of the above group that Quentin Tarantino really didn't want to audition, because he was so set on casting someone else in the part. That individual was Diane Kruger, and the actress has now opened up about just how grueling a process it was for her to actually be cast as Bridget von Hammersmark in Inglorious Basterds. After being asked how many times she auditioned, Diane Kruger recalled,
Unfortunately, Diane Kruger didn't go into detail about who she managed to usurp for the part. However, it was previously reported that Nastassja Kinski, the German actress who won the Golden Globe for Roman Polanski's Tess, was his first choice. Quentin Tarantino even reportedly flew to Germany to meet the actress, but couldn't work out a deal with her. This is when Diane Kruger swooped in. After reading the script, Diane Kruger believed that the part was "meant" for her. Quentin Tarantino wasn't quite as convinced, though, and Diane Kruger even had to go as far as to fly out to Germany herself towards the end of the casting so that she could talk him into it.
Clearly that was a success, as Diane Kruger was ultimately cast in the film, and the actress has since called the production a "wonderful experience," describing Quentin Tarantino's process as like being "taken over" and "given wings" in front of the camera. She even went as far as to call Quentin Tarantino a "creative genius." Diane Kruger made these comments during her recent interview with Variety.
Released back in 2009, Inglorious Basterds was a big-hit for Quentin Tarantino, as it was met with sterling reviews to the tune of 89% on Rotten Tomatoes, and grossed $321.5 million at the box office, too, which at that point was the director's highest grossing film ever. Django Unchained's $425.4 million has since toppled that amount, but thanks to its sensational performances and Quentin Tarantino's glorious script and direction, Inglorious Basterds is still just as revered by fans to this day, and in fact it only gets better with repeat viewings.
Your Daily Blend of Entertainment News
Thank you for signing up to CinemaBlend. You will receive a verification email shortly.
There was a problem. Please refresh the page and try again.