Quentin Tarantino Has A Very Cool Idea For An Inglourious Basterds Spinoff Story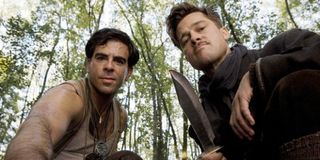 Quentin Tarantino has developed one of – if not the – most respectable reputations in Hollywood for producing high quality films. His latest film, The Hateful Eight, will hit theaters later this month, but it seems the modern directing icon hasn't stopped looking forward to future potential projects. One such project is a film we have all likely longed for at some point in the last six years: a sequel to Inglourious Basterds.
Speaking with Indiewire at a recent New York City press conference, Tarantino elaborated on the potential development and premise of an Inglourious Basterds 2 – if it ever makes it that far:
A film following a platoon of fugitive black soldiers as they traverse the French countryside during WWII already sounds like the formula for a Quentin Tarantino masterpiece, so it goes without saying that this pitch entices us more than a little bit. The possibilities really are endless when it comes to this sort of premise; the film has the opportunity to take an already established universe and further explore Tarantino's own personal feelings towards notions of race, religion, and over the top violence. Of course, anyone who has seen the original Inglourious Basterds knows that the timeline would have to be massaged somewhat, as the film does not necessarily lend itself to a sequel.
This premise could also serve to continue the never confirmed – but long assumed – theory that Tarantino's films are all related in some way or another. One of the black soldiers could be a descendant of Jamie Foxx's Django, or even an earlier relative to Samuel L. Jackson's Jules Winnfield from Pulp Fiction.
Of course, by Tarantino's own admission, there's still quite a bit of work that would need to be done to get this project off the ground. As the material is pretty much just a deleted subplot from the original Inglourious Basterds, it needs to be fleshed out and expanded in a way that could serve a whole movie. He argues that one of the biggest selling points is that a movie like this has never really been done before, and he has a point. Films like Red Tails or Spike Lee's Miracle at St. Anna most certainly exist, but beyond that not much else has been released in recent years chronicling the black experience during the Second World War.
So while Tarantino continues to promote the upcoming release of The Hateful Eight, we will just be here with our fingers crossed that he gets around to making this hypothetical WWII period piece. The Hateful Eight will make its bloody debut in theaters on Christmas Day.
Originally from Connecticut, Conner grew up in San Diego and graduated from Chapman University in 2014. He now lives in Los Angeles working in and around the entertainment industry and can mostly be found binging horror movies and chugging coffee.
Your Daily Blend of Entertainment News
Thank you for signing up to CinemaBlend. You will receive a verification email shortly.
There was a problem. Please refresh the page and try again.