The Cubs Took An Anchorman-Themed Road Trip And The Pictures Are Great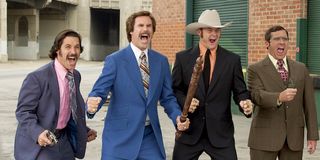 Of all the movies on Will Ferrell's resume, Anchorman: The Legend of Ron Burgundy not only ranks among his list of hits, it's arguably one of the most quotable comedy movies of all time. 13 years after its release, folks are still turning to Ron Burgundy and the Channel 4 News team for hilarity. That includes the Chicago Cubs, as the baseball team kicked off a road trip recently and modeled their looks after the characters from the 2004 film.
Here you can see some members of the team on their plane (I guess this isn't a road trip 100% of the way) garbed in their Anchorman-style outfits, and they're staying classy. The standout from this gathering is strength and conditioning coordinator Tim Buss, who is channeling Ron Burgundy at the pool party with the robe and pipe. The tiger is a weird addition, but maybe he couldn't find a stuffed panther to channel the pure power of the Sex Panther.
Here we have Jon Lester rocking one of Ron Burgundy's classic blue suits, and John Lackey combining one of Burgundy's maroon suits with a cowboy hat from the Champ Kind collection.
Koji Uehara's threads don't match anyone specific from Anchorman's main cast, but they would fit right in during the 1970s.
Then there's Kyle Schwarber, who is also emulating Champ Kind. The only thing missing from the ensemble is him swinging a bat and yelling "Whammy!"
These guys didn't just go admired by Chicago Cubs fans and everyone they passed by during their trip. Ron Burgundy himself went on the old school ESPN SportsCenter (opens in new tab) set to comment on their attire. Ok, most of what he said was just nonsense, like explaining what SWAT stands for and how he'd like a mayonnaise jar filled with vodka. He closed off his commentary proclaiming:
Anchorman was followed up in 2013 with Anchorman 2: The Legend Continues, which also earned positive reviews. A third Anchorman film hasn't been greenlit yet, but seeing these Chicago Cubs players in their colorful clothing reminds us that this comedy series remains a favorite for many.
Connoisseur of Marvel, DC, Star Wars, John Wick, MonsterVerse and Doctor Who lore. He's aware he looks like Harry Potter and Clark Kent.
Your Daily Blend of Entertainment News
Thank you for signing up to CinemaBlend. You will receive a verification email shortly.
There was a problem. Please refresh the page and try again.