Why Wonder Woman Is The Best DCEU Movie So Far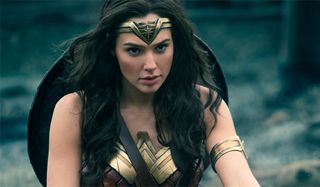 This year marks four years of the DC Extended Universe's existence on the big screen, but it's been a rocky start for the growing superhero franchise. While the films have been making money, they've also managed to earn an extremely divisive position in pop culture, and mostly negative reviews. Thankfully, that's a streak that is coming to an end with Patty Jenkins's Wonder Woman: the film that can unquestionably be called the best movie in the franchise so far.
The bar for the franchise was set with Man of Steel, Batman v Superman: Dawn of Justice, and Suicide Squad, but it's one that Gal Gadot's Wonder Woman hurdles over with ease in her first solo adventure. What exactly is it that gives the new film the edge? It basically breaks down into four key points -- which you will find as you read on!
SPOILER WARNING: The following article contains major spoilers for Wonder Woman. If you have not yet seen the film, and don't wish to have any specific details about it ruined in advance, please bookmark this page and return after your screening!
Its hero legitimately wants to be a hero
The dream of becoming a superhero is a near universal one that we can all relate to... but it's oddly a motivation that has become infrequent in modern comic book movies. Stories are driven by conflict, and it's fish in a barrel to tell the story of a powerful individual who feels burdened by their power and the responsibility that comes with it. It's not just a big part of DC Extended Universe movies, but plenty of Marvel titles as well. A huge part of what makes Wonder Woman so refreshing, however, is that its titular heroine's legitimate drive to do good is constant and never faltering.
Rather than being burned by power and responsibility, Diana is entirely free and literally living in paradise before the story of Wonder Woman really kicks off -- and everything that happens in the movie happens because she feels that it is her duty to do everything within her abilities to help the world. It's entirely summed up in her trip into No Man's Land on the frontlines, and it's why that particular sequence will be remembered for decades to come. It certainly helps that Gal Gadot sells the hell out of this attitude, but it's also just downright inspiring to watch within the context of the story being told and the atmosphere of the world into which the film is being released. It's a feeling that is completely absent in all of the DC Extended Universe movies that precede it, and puts it a head above them all.
A proper mixing of tone and atmosphere
Picking up the ball left by Christopher Nolan and creating a contrast between it and the Marvel Cinematic Universe, the DC Extended Universe has tried to brand itself as a franchise featuring darker superhero stories... but it hasn't exactly worked as planned. It's not only had adverse effects on key characters -- creating a dour Superman and murdering Batman -- but has also made fans wonder if the sun actually ever shines in this particular big screen world. Fortunately, this isn't a style that Wonder Woman entirely disrupts (there is something to be said for franchise consistency), but the film also does find ways to be brighter and funnier without undercutting the drama.
The DC Extended Universe tiptoed closer to comedy with David Ayer's Suicide Squad last year, but it simply wound up being one of many exhibits showcasing how that movie had no idea what it wanted to be. In contrast, Patty Jenkins' Wonder Woman is far more consistent, and while it's able to make audiences hold a collective breath during battle sequences, the film is also surprisingly humorous throughout -- with much of that coming from the fantastic interplay between Gal Gadot's Diana and Chris Pine's Steve Trevor. The movie feels as relaxed as Man of Steel and Batman v Superman: Dawn of Justice feel stifled.
It's the strongest DCEU supporting cast we've seen
Wonder Woman is purposefully built as a story of two realms -- the island of Themyscira and the world of man -- but both are united in the fact that they are occupied some fantastic characters established by excellent performances. Though their roles are brief, both Connie Neilson and Robin Wright do a brilliant job bringing to life the regality of Hippolyta and Antiope; Lucy Davis is perfect as the goofy, lovable Etta Candy; and Said Taghmaoui's Sameer, Ewen Bremner's Charlie, and Eugene Brave Rock's Chief make for a fun and engaging group of misfits. Together they make up what can be argued as the strongest DCEU supporting cast we've seen so far.
Suicide Squad has way more characters than it knows what to do with (why are Slipknot and Katana in the movie?), and both Man of Steel and Batman v Superman: Dawn of Justice feature ensembles we've seen put together (arguably) better on the big screen before, but Wonder Woman delivers a fresh batch of heroes and villains that will quickly cement themselves in pop culture. Great as Amy Adams is as Lois Lane in Man of Steel, Chris Pine takes that same second billing position and delivers the best performance of his career playing Steve Trevor -- and the collection of Danny Huston's Gen. Ludendorff, Elena Anaya's Dr. Maru, and David Thewlis' Sir Patrick Morgan/Ares are just as good as the villains in any of the franchise's previous films.
It doesn't have anything incredibly embarrassing
While I won't argue that Man of Steel, Batman v Superman: Dawn of Justice and Suicide Squad don't have their bright spots, it's also distressing how terrible their low points are. Before Wonder Woman, the legacy of these movies has been Superman not saving anybody during his fight with Zod, the "Martha" moment, and Enchantress waving her arms around in front of a bunch of CGI. It's certainly a low bar, but we can still appreciate Patty Jenkins' blockbuster hopping over it anyway.
This isn't to say that Wonder Woman doesn't have its issues, because I could point to some serious problems in the movie's third act, but the larger point is just that the film actually feels thoroughly vetted and doesn't have any moments where you wonder how certain sequences actually managed to make it through the entire production process without being questioned. It's certainly a sliding scale within the canon, with Suicide Squad at the bottom (we could go on all day about insane choices in that film), but Wonder Woman still sets a new level of expectation for this franchise, and we hope that it's one that Justice League, Aquaman and all future DC Extended Universe blockbusters are able to either live up to or exceed.
Your Daily Blend of Entertainment News
Assistant Managing Editor
NJ native who calls LA home and lives in a Dreamatorium. A decade-plus CinemaBlend veteran who is endlessly enthusiastic about the career he's dreamt of since seventh grade.
Your Daily Blend of Entertainment News
Thank you for signing up to CinemaBlend. You will receive a verification email shortly.
There was a problem. Please refresh the page and try again.