To 3D Or Not To 3D: Buy The Right Valerian And The City Of A Thousand Planets Ticket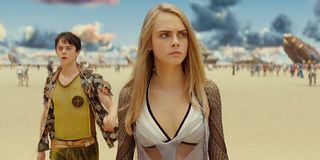 Luc Besson has been a lifetime fans of the comic book series Valerian and Laureline, and this summer he is finally getting his chance to deliver his passionate big screen adaptation. Valerian and the City of a Thousand Planets is a film is a blockbuster decades in the making, and every bit of its marketing materials have showcased it as a true visual feast. However, is it a meal best served in 2D, or in 3D? That's what we're today to judge.
For how well Valerian and the City of a Thousand Planets plays as a full film you should head over to CinemaBlend's Review Section, but reading on will reveal our through breakdown of every aspect of the movie's stereographic experience. To 3D or Not To 3D is the question, and below you will find the answer!
3D Fit Score: 5/5
Movies that heavily involve CGI environments and CGI elements tend to make great fodder for 3D, given the fact that they can be easily manipulated in a computer to enhance the stereoscopic effect (particularly when it comes to post-conversion). It's for this reason that most modern studio blockbusters are typically a strong fit for the added element, and Valerian and the City of a Thousand Planets is no exception. The movie is jam packed with set pieces that are legitimately enhanced by the extra dimension, earning the film a perfect score in this category.
Planning and Effort Score: 5/5
The 3D game has changed greatly since Avatar ushered in the era in late 2009, and the stigma against post-conversion has dissipated thanks to advances that have vastly improved quality. As such, what's really important in this category now is simply the original knowledge of and intention to release the movie in 3D during the earliest stages of production, and Valerian and the City of a Thousand Planets certainly qualifies. It can't be said it was part of the plan from the inception, has Luc Besson has spent decades thinking about this movie, but it was definitely part of the distribution strategy when the gears started seriously turning.
Before the Window Score: 2/5
While dismissed as hokey by some filmmakers, 3D that has elements jumping out of the screen into the audiences' lap can be one of the most fun parts of the stereoscopic experience -- but it's not something we see a great deal of in Valerian and the City of a Thousand Planets. When it comes to post-converted 3D, these kinds of things really need to be included in the shot plan, such as having a projectile fired straight at a camera, but save for a few examples, it's not really something that is a part of the sci-fi film's big screen experience.
Beyond the Window Score: 5/5
What Valerian and the City of a Thousand Planets lacks in the Before The Window category it more than makes up for with its use of depth. Luc Besson has filled his blockbuster with countless bombastic, beautiful, and wild environments, and the 3D has a beautiful way of expanding the luscious space and really bringing you into it. This is truly not only in the various weird parts of Alpha -- the movie's titular City Of A Thousand Planets -- but also in sequences set out in space (the opening sequence in particular is a dazzler).
Brightness Score: 5/5
Being set entirely in space, there really isn't any daylight to speak of in Valerian and the City of a Thousand Planets, and basically the entire thing is set in interior locations. This would typically present a huge challenge for the 3D viewing experience, but the blockbuster has one very important ally: color. Not only do incredible bright colors really pop in 3D, but they also make for a great compensation too when it comes to brightness. Admittedly the projection at your local theater makes this category somewhat subjective, as some establishments purposefully lower the brightness to extend life of projector bulbs, but when shown properly Valerian has no issues in this area.
Glasses Off Score: 5/5
The stereoscopic effect is created by each lens in your 3D glasses picking up different images from a screen and combining them, and the best way to see how it works is by peering over the rims during a screening. The blurriness of the screen is typically a solid indication of quality, as the more layers that are present the blurrier the image and the more notable the effect. During my screening of Valerian and the City of a Thousand Planets, I did this many times during many different kinds of scenes (action-heavy, dialogue-heavy, establishing shots, etc.) and found myself impressed each time. The film is practically unwatchable without the glasses regardless of the scene context, and it gets two big thumbs up as a result.
Audience Health Score: 5/5
Everybody's sensitivity to 3D is different, but as someone who on occasion has felt the ill effects, I can tell you that Valerian and the City of a Thousand Planets didn't bother me in the slightest. Headaches and nausea can be the result of stereographers failing to establish focal points that prevent your eyes from wandering the screen, and there wasn't any point where I felt like that was happening. Unless you're the kind of person who always gets sick from 3D, we can recommend the experience health-wise.
Conclusion: Given the general weirdness and outrageousness of Valerian and the City of a Thousand Planets, you are left wishing that the film did take more opportunity to throw things at the audience - but as you can see from the scores, the 3D is perfect beyond that. Valerian is the kind of blockbuster you can pinpoint as a must-see 3D movie months before release, and it definitely doesn't disappoint. If you've been saving money this summer not shilling out extra money for the pair of glasses, we recommend putting that extra cash towards this big screen experience.
NJ native who calls LA home; lives in a Dreamatorium. A decade-plus CinemaBlend veteran; endlessly enthusiastic about the career he's dreamt of since seventh grade.
Your Daily Blend of Entertainment News
Thank you for signing up to CinemaBlend. You will receive a verification email shortly.
There was a problem. Please refresh the page and try again.