The Chinese Box Office Isn't Growing Like Many Had Hoped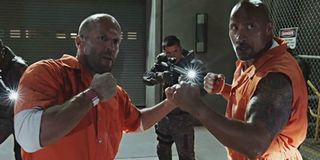 2017 was supposed to be the year that the Chinese box office took over the United States as the largest movie market in the world. But the audience just hasn't been there for China to actually usurp the U.S., and instead the country's predicated ascent has been delayed until 2021.
It has not been all bad news for the Chinese box office, though, because it still experienced a growth in the first half of 2017. Revenue from movie tickets has risen just over 3.7%, from 24.6 billion yuan in 2016 to 25.5 billion yuan in 2017. For those of you that aren't immediately able to exchange that amount of dollars in your head, the 2017 amount comes in at around $3.8 billion.
But there's a pretty solid reason for why people are slightly concerned at these figures. That's because the poor performance at the Chinese box office has actually been a running theme for a full year now. According to The Hollywood Reporter, the Chinese box office had annually been expanding to such an extent that it had grown by 35 percent in just 5 years. However, by the end of 2016, its growth in receipts came in at just under 4 percent, when it was originally predicted to be much larger.
The reason for this stall at the Chinese box office is purely a domestic one, though. The biggest film of 2017 so far in China is the Jackie Chan-led Kung Fu Yoga, which took in $255 million upon its release. This is less than half of last year's monster hit The Mermaid, which amassed $528 million when it was released at the start of February 2016. Since then, there has been a severe lack of hit Chinese releases.
Thankfully for China, international releases have been picking up the slack. That's been easier for them to do, because regulators in Chinese cinemas have quelled their restrictions on imported releases. In the first half of 2017 alone, there have been 14 more releases than the 43 allowed in 2016. This has allowed international films to take in 61% of the country's receipts, well up from the 47% of the year before. There have been three movies to blame for this increase, too, as, in China alone: The Fate Of The Furious hauled in $388 million, Transformers: The Last Knight is currently on $206 million and still prevalent at the box office, while the Bollywood hit Dangal has amassed $190 million.
The Chinese state media has been hard at working putting a spin on these numbers, though. In order to beef them up, these regulators have sneakily been adding the service fees charged by online companies into their box-office revenue. While that might not sound like a lot, the fact that 80 percent of Chinese moviegoers buy their tickets online means that it makes the figures look much rosier. Experts have insisted that this is just a ploy to try and paper over the cracks during what's obviously a downturn, especially because theaters, distributors, producers and other stakeholders in films don't consider this money. If you do take this amount into consideration, then China's box office has grown 10.5% in the first six months of 2017. But we really know that's far from the case.