Stephen King's It Showed Off New Footage, And It Was Horrifyingly Nostalgic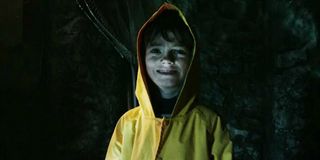 Now that we have entered the back half of summer, the behemoth blockbusters and comic book films will soon take a backseat to one of our favorite genres: horror. With Halloween only a few months away, Hollywood has some of its best scream-inducing flicks waiting to scare the pants off of us, and one of the best-looking of the bunch is Andres Muschietti's It remake. In fact, terrifying new footage from the upcoming reboot was screened for audiences last night at San Diego Comic-Con, and we honestly cannot contain our excitement for how scary and nostalgic this film looks.
In the first sequence shown to us at Comic-Con, the film introduces audiences to The Losers' Club. On a cliff overlooking a steep drop into a swimming hole, we find the young boys (and one girl) too afraid to make the leap. However, the kids eventually find their courage when Beverly Marsh decides to disrobe and hop in. What follows is a montage of the kids playing in the water, and clear expression of the bond shared between them. Once they have tired themselves out, they sit by the side of the lake and talk about how things in Derry, Maine are not as they seem, and the frequent disappearances that occur in the town hint at a much greater threat. It's a quieter scene, but it sells the connection between these kids, as well as the horror on the horizon.
The second sequence shown to audiences at San Diego Comic-Con was similar, but it highlighted a far more sinister aspect of the film's story. Specifically, the scene opens on Mike Hanlon as a group of bullies harasses and attacks him, with seemingly no one around to come to his aid. Helpless against their overwhelming numbers, he looks out into the bushes to see Pennywise waving back at him with a severed (and incredibly bloody) baby arm. You read that right; he's holding a severed and bloody baby arm. Terrified by what he sees, but unable to do anything about it at the moment, the boy finds himself saved when The Losers' Club shows up and begins to pelt the bullies with rocks while Anthrax's "Antisocial" blares. Emerging victorious (which is not a common occurrence for them) the group of misfit kids decides to stick together through thick and thin, unaware that this pact could mean the difference between life and death.
Between both of the It sequences shown at San Diego Comic-Con, it's pretty clear that director Andres Muschietti is opting for a familiar tone that feels like a throwback to the original miniseries. This isn't a horror remake that throws out the essential DNA of what came before it, like Halloween or the A Nightmare on Elm Street reboot. Instead, It has opted for a more traditionalist route that very much feels like the same universe -- albeit filtered through a slightly different lens. The focus on youth and friendship remains intact (remember, Stephen King did Stranger Things before Stranger Things became a thing), but the looming presence of Pennywise feels arguably more sinister and menacing than anything seen in the original. Balancing homage with innovation is never easy, but It appears to have a found a way to make it work.
In addition to the fantastic It scenes, audiences were also treated to a brand new trailer for the upcoming horror thriller. The preview is expected to drop this weekend as San Diego Comic-Con kicks into high gear, so we will bring you more in-depth coverage of Andres Muschietti potential classic as more news about the project breaks online!
The It remake will debut in theaters later this year on September 9, 2017. CinemaBlend will bring you more excellent news straight from San Diego Comic-Con all weekend, so stay tuned for more details!
Originally from Connecticut, Conner grew up in San Diego and graduated from Chapman University in 2014. He now lives in Los Angeles working in and around the entertainment industry and can mostly be found binging horror movies and chugging coffee.
Your Daily Blend of Entertainment News
Thank you for signing up to CinemaBlend. You will receive a verification email shortly.
There was a problem. Please refresh the page and try again.