MythBusters' Adam Savage Has A Really Intriguing Opinion About Movie Reboots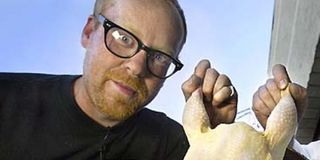 If you've been paying an iota of attention to entertainment over the past few years, you may have noticed a proliferation of remakes and reboots popping up. Opinions differ as to whether or not reboots and remakes are a great idea, as some fans like to see new amalgamations of their favorite characters and others think good movie properties should be left alone. At a recent Comic-Con panel, Mythbusters' Adam Savage had a more intriguing take on what we should do we reboots: stop rebooting the movies that people already love in favor of projects that could really use a reboot. He said,
In many ways, this seems like a great idea. There are a lot of movies out there that really tried for something but fell short of the mark, and could be improved greatly to become beloved hits in their own right if given the opportunity to be rebooted. However, it's far more likely that franchises that are already popular will get rebooted, often because a studio's main goal is to make money. It's much easier to get people to buy tickets if they are already familiar with and positive toward a property, which is why we see projects that are already well known and well-liked get remade again and again.
Intriguingly, Adam Savage was part of a San Diego Comic-Con panel called "The Great Debate" which happened just before the Battlestar Galactica reunion panel -- itself a remake of a short-lived but fan-favorite science fiction TV series. The Ron Moore reboot series has been a major success in its own right, and is living proof that popular projects can be remade in a different way, and better.
Speaking of reboots, Aisha Tyler, who was also in on "The Great Debate" panel, has a reboot that she wants to see made:
To get back to Adam Savage's point, there are plenty of movies out there with interesting premises that could be rebooted and made better. He named a Molly Ringwald film as an example, but what if something like Waterworld or Green Lantern could be remade to be less of a disaster? Or John Carter could be redone to be more intriguing for fans? Although an iconic character like Green Lantern might be an exception, I don't know who would put up the money for a project that would both need a big budget and had failed previously. Still, if money were no object, those would be the movies that could really have new life breathed into them. Maybe we'll see some of these eventually come to life.
Amazing Race & Top Chef superfan with a pinch of Disney fairy dust thrown in. If you've created a rom-com I've probably watched it.
Your Daily Blend of Entertainment News
Thank you for signing up to CinemaBlend. You will receive a verification email shortly.
There was a problem. Please refresh the page and try again.