Mythbusters' Grant Imahara: 6 Things The Late Host Should Be Remembered For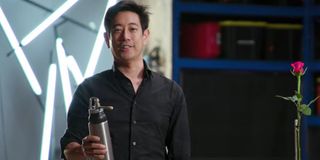 Fans of the Discovery Channel series Mythbusters received shocking and devastating news of the sudden passing of the show's former cast member and master engineer Grant Imahara, who suffered a brain aneurysm and died at the age of 49 in July 2020. Not soon after the news of his passing spread across the internet, Imahara's longtime friends and former castmates memorialized the late host with touching tributes about the man and accomplished television personality.
In honor of the life and legacy of Grant Imahara, I have put together a list of some of his greatest accomplishments in the world of robotics, filmmaking, and yes, even his tenure on the successful Discovery Channel program. So as we mourn this tragic loss, let's look back on Imahara's accomplishments in the world of robotics, Star Wars, and yes, even Mythbusters.
As A Kid, Grant Imahara Wanted To Be Less Like James Bond And More Like Q
Anyone who watched Mythbusters is well aware of the skill and and enthusiasm Grant Imahara had for the field of robotics and general tinkering. He was often seen formulating and constructing mechanisms to carry out the different experiments. One thing casual fans may not know, however, is that Imahara grew up a fan of the the James Bond franchise, but not because of the dashing leading man with his signature cocktail. Here's how the late engineer put it in a 2008 interview with Machine Design:
Perhaps that's what Imahara looked so natural in the James Bond episode of Mythbusters where he and his co-hosts tested several of 007 (and Q's) most famous scenes and gadgets.
The Longtime Lucasfilm Employee Was One Of Three R2-D2 Operators In The Prequel Trilogy
Long before Grant Imahara found his way to the Mythbusters television series, the electrical engineering graduate from the University of Southern California first went to Lucasfilm, where according to THR, worked in the THX and Industrial Light and Magic divisions over the course of his nine years with the company. During his nearly decade-long stint with Lucasfilm, Imahara became a chief model maker working in animatronics, but oddly enough, that's not the most fascinating part of the story.
While filming Star Wars: Episode 1 - The Phantom Menace, Grant Imahara was one of only three Lucasfilm employees put in charge of operating the R2-D2 units during the production. During a StarWars.com interview, ILM engineer Don Bies explained that their work on R2-D2 didn't stop with the first prequel and that Imahara spent some time updating the electronics of 12 R2 units ahead of shooting for Star Wars: Episode 2 - Attack of the Clones several years later.
In Addition To Star Wars, Grant Imahara Built Models For Some Of The Biggest Movies Of The 1990s And Early 2000s
Grant Imahara's work in the field of visual effects didn't start and stop with the Star Wars franchise, as the talented engineer's name is featured in the credits of some of the most groundbreaking and successful movies of all time. According to the late engineer's IMDb page, he worked as a model maker on blockbusters like The Lost World: Jurassic Park, The Matrix Reloaded, The Matrix Revolutions, and Terminator 3: Rise of the Machines, as well as other projects like xXx: State of the Union, A.I. Artificial Intelligence, and even Galaxy Quest.
In addition to being a successful visual effects artist, Grant Imahara also lent his acting talents to quite a few projects over the years, including Star Trek Continues, a fan-made continuation of the classic 1960s science-fiction series where he took on the role of Sulu, a role first made famous by the great George Takei. Imahara's final acting credit was for the role of Medal of Honor recipient and longtime United States Senator Daniel Inouye in a 2018 episode of the Comedy Central series Drunk History.
Grant Imahara Was A Major Part Of The Comedy Central Series BattleBots And Even Wrote A Book On Robot Design
Drunk History wasn't the only Comedy Central series to feature Grant Imahara. Nearly 20 years earlier back in 2000, the engineer was a major player in the the BattleBots competition show that pitted two remote-control machines against one another. Diehard fans of the classic series will probably remember Imahara's Middleweight champion "Deadblow" robot that was featured heavily in the show's first three seasons.
Grant Imahara was so passionate about "Deadblow" and his experience building robots he ended up writing a book in 2003 titled Kickin' Bot: An Illustrated Guide to Building Combat Robots that went into great detail about the design, construction, and operation of mechanical deathbots.
Grant Imahara Built The Geoff Peterson Robot Featured On The Late Late Show With Craig Ferguson
Before James Corden took over as the host of The Late Late Show in 2015, the show was mostly remember for the hijinks and demeanor of the show's former host Craig Ferguson who sat behind the desk from 2005 to 2014 before calling it a day. Well, with a co-host to laugh at his off-hand jokes, Ferguson enlisted the services of Grant Imahara in 2010 to construct Geoff Peterson, a robotic sidekick with a coat, tie, and mohawk.
Just before Geoff Peterson's unveiling in April 2010, Grant Imahara told EW that he had spent weekends and whenever else he had spare time to construct a plastic skeleton with bones and a torso constructed out of aluminum. To top it all off, Imahara installed a moveable head, jaw, and arm to add personality to the robot that was then voiced by host Craig Ferguson. After news of Imahara's passing began to spread around the internet, Ferguson posted a touching tribute to his friend and Geoff's creator on Twitter where he said he would be forever grateful for everything the late engineer did for him on the show.
Joining The Cast Of Mythbusters In 2005 Was The Start Of An Enduring Partnership With His Co-Hosts
Most of all, people will always know and remember Grant Imahara for the nine years he spent as one of the co-hosts of Mythbusters. Starting in 2005, Imahara was one of the three members of the show's build team alongside former ILM colleague Tory Belleci and Kari Byron. Week-in and week-out from 2005 until 2014, the three members of the show's build team assisted hosts Adam Savage and Jamie Hyneman to construct large-scale experiments as well as leading smaller experiments featured throughout the show. And even though Imahara, Belleci, and Byron were let go from the show in 2014, the trio didn't let that stop them from continuing their fruitful partnership.
In 2016, the three former Mythbusters were given a show of their very own on Netflix titled White Rabbit Project, which saw the team investigating everything from jailbreaks to superpower technology on the first and only season of the series. Though it only lasted 10 episodes before getting the can, White Rabbit Project served as a great continuation of experiments Grant Imahara, Tory Belleci, and Kari Byron had made so enjoyable all those years earlier.
I hope all of this helps shed some light on the life and career of one of the greatest engineering minds in the film and television. I know it made me appreciate The Phantom Menace a little more.
Philip grew up in Louisiana (not New Orleans) before moving to St. Louis after graduating from Louisiana State University-Shreveport. When he's not writing about movies or television, Philip can be found being chased by his three kids, telling his dogs to stop yelling at the mailman, or yelling about professional wrestling to his wife. If the stars properly align, he will talk about For Love Of The Game being the best baseball movie of all time.
Your Daily Blend of Entertainment News
Thank you for signing up to CinemaBlend. You will receive a verification email shortly.
There was a problem. Please refresh the page and try again.