Former Mythbusters Host Adam Savage Made Some Cool Upgrades To Captain America Shield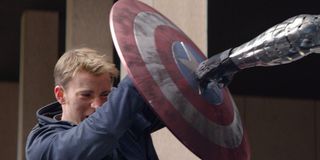 When it comes to the heroes of the Marvel Cinematic Universe, Captain America is definitely one of the franchise's most formidable fighters, and this is partly due to his iconic shield. His signature red, white and blue weapon has become a favorite among fans, and it's an accessory that many cosplayers try to recreate. Well, Mythbusters alum Adam Savage may have them beat, as he is in possession of an extraordinary replica that he recently upgraded.
Adam Savage owns a near-identical duplicate of Steve Rogers' stealth shield, which was featured in Captain America: The Winter Soldier. The weapon, which he received from Shield Labs, is beautifully crafted and even includes key details like bullet marks that were carefully detailed.
However, upon receiving the prop, Savage noticed that it was still missing something. The back of the shield didn't have the boarder that lines the rim. So, using an aluminum cutting technique he learned, he proceeded to the make the addition himself, and the result is pretty cool. Check out his work in a segment from Adam Savage's One Day Builds down below:
I honestly don't know what's more impressive: the shield itself or the fact that Adam Savage was able to seamlessly add the aluminum barrier. It may seem like a minor thing to some, but it definitely makes the prop look a lot more authentic.
Adam Savage and his fellow Mythbusters alums have always found ways to inject a bit of pop culture into their work. For his show Savage Builds, he actually attempted to construct his own Iron Man suit, and the final results were pretty remarkable. Aside from the Marvel realm, Savage's former co-star, the late Grant Imahara, managed to construct a replica of The Mandalorian's Baby Yoda. The late engineer was hoping to take the animatronic character to children's hospitals to help comfort patients.
Given just how cool Captain America's shield is, it's totally understandable that Savage would seek one out to go with his own outfit. If I'm being honest, it could almost give Chris Evans' own shield a run for its money, though the official one still edges it out.
Speaking of the actual shield, the vibranium weapon is slated to make its next on-screen appearance in Disney+'s The Falcon and the Winter Soldier. Of course, this time around, Steve Rogers won't be the one tossing it, as newly dubbed Captain America Sam Wilson will now wield it. However, at some point, he may have to fight to get it back from John Walker a.k.a. the U.S. Agent.
As a Marvel fan, Adam Savage probably can't wait to see the shield in action once more but, in the meantime, he can practice using it like Wilson did in Marvel's Disney+ teaser. He may just want to be sure there aren't too many people around if he decides to do so.
Covering superheroes, sci-fi, comedy, and almost anything else in film and TV. I eat more pizza than the Teenage Mutant Ninja Turtles.
Your Daily Blend of Entertainment News
Thank you for signing up to CinemaBlend. You will receive a verification email shortly.
There was a problem. Please refresh the page and try again.