This Rotten Week: Predicting Annabelle: Creation, The Glass Castle And The Nut Job 2 Reviews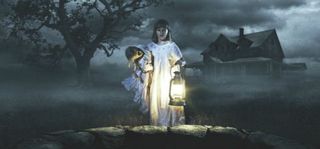 August has never been the greatest movie month of the year, but at least this time around there really is something for everybody - provided that you're a fan of horror, biographical drama, and animation. Get ready for Annabelle: Creation, The Glass Castle and The Nut Job 2: Nutty by Nature. It's gonna be a Rotten Week!
Just remember, I'm not reviewing these movies, but rather predicting where they'll end up on the Tomatometer. Let's take a look at This Rotten Week has to offer.
The Conjuring Universe continues to expand. And sust so we are all caught up here, Annabelle: Creation is a prequel to Annabelle (29%), which is a prequel to the The Conjuring (86%), and overall is overall fourth film in the franchise. The new movie once again revolves around the seriously creepy titular doll, Annabelle, who is possessed by a demon, and becomes a nightmare for a group of orphans. And while the first movie in this series-within-a-franchise was a critical dud, this one is already collecting some positive marks.
Critics are overwhelming positive early with the Tomatometer sitting at 100% through 15 reviews. It clearly won't stay here, but this should finish certified fresh when all's said and done. It's worth noting that the director, David F. Sandberg, had some critically-appreciated horror in the works last year as well, making his feature debut with Lights Out (76%). I expect Annabelle: Creation to fall in a similar zone.
Based on the memoir of the same name by Jeannette Walls, The Glass Castle tells Walls' story of growing up with an alcoholic and eccentric father (Woody Harrelson), and how she was still able to see his love even with the world collapsing around them. This certainly doesn't come across like your typical summer release, and it sports an impressive cast that includes Brie Larson, Woody Harrelson and Naomi Watts, but I don't see this one really taking off with critics.
Brie Larson is reteamed with director Destin Daniel Craig, who helmed Short Term 12 (99%), which was one of the best movies I've seen in the last few years. That movie brought such an emotional impact through such a tiny sense. This latest looks a little more broad, but here's hoping he can turn it into something just as solid.
My kid doesn't exactly have the most refined taste in movies, so when I say the original The Nut Job (10%) is the only movie we walked out mid-movie, then it should probably mean something. I just remember her saying, "Dad, let's go. This is boring." She was 4 at the time. That in mind, my expectations for The Nut Job 2: Nutty By Nature, are completely at the bottom of the barrel, hence my rating prediction.
Because Hollywood has little in the way of shame and the almighty dollar dictates most business decisions in the industry, we're getting this animated sequel, and it looks dreadful. The title tells you everything you need to know about what kind of thought was put into a heist film starring squirrels and nuts. This thing looks like it blows as bad as the first one, and I predict that The Nut Job 2: Nutty By Nature will wind up with one of the lowest Rotten Tomatoes scores of the year.
We had one hit and one very unfortunate miss last time around. Let's start with the bad news first. The Dark Tower (Predicted: 65% Actual: 18%) was an epic disaster, and a colossal disappointment for fans. I published my prediction on Sunday, and when Tuesday rolled around and no reviews were in I knew it was going to be bad. It turns out it was way worse than I imagined. Sadly, this may kill any thoughts about a potential big screen franchise for Stephen King fans.
Meanwhile, Kidnap (Predicted: 43% Actual: 40%) was nearly spot on. I thought this flick looked like a solid premise for an hour long made-for-TV movie that took 20 minutes of commercial breaks throughout. Anything more than that would mean the writing was shoehorning in some of the drama. That looks to be the case, with critics less than positive on the final product. It looks like Halle Berry carried what would have been a completely forgettable offering without her name (and will likely be forgotten by just about everyone regardless).
Next time around we've got The Hitman's Bodyguard and Logan Lucky. It's gonna be a Rotten Week!
Doug began writing for CinemaBlend back when Terminator: The Sarah Connor Chronicles actually existed. Since then he's been writing This Rotten Week, predicting RottenTomatoes scores for movies you don't even remember for the better part of a decade. He can be found re-watching The Office for the infinity time.