What The Silver Sable And Black Cat Spider-Man Spinoff May Be About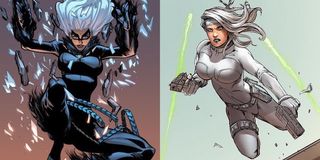 While Sony Pictures continues to work with Marvel on keeping Tom Holland's Spider-Man busy in the Marvel Cinematic Universe, the studio is also getting some extra Spidey action by delving into the Web-Slinger's lineup of supporting characters and villains.The Tom Hardy-led Venom movie is scheduled to begin shooting soon, and after that, Silver Sable and Black Cat will lead their own spinoff, titled Silver & Black. As for why these two will cross paths in the movie, it's reportedly because Silver Sable is chasing after Black Cat because she is key to tracking down the story's main antagonist.
Although Black Cat and Silver Sable will share equal billing in Silver & Black, the latter is supposedly the movie's primary protagonist. Like her comic book counterpart, the cinematic Silver Sable, a.k.a. Silver Sablinova, is a mercenary from the nation of Symkaria, but in this continuity, her father has had dealings with Mendel Stromm, the primary villain of this tale. Silver Sable, who is working as a bounty hunter for the U.S. is seeking vengeance against Stromm for experimenting on her people, and to find him, she'll tail Black Cat, a.k.a. Felicia Hardy.
As for how Black Cat fits into the picture, she's been embracing her thieving ways and taking a variety of objects and treasures that don't belong to her. She's been able to accomplish this by taking a special "enhancement" that was created by Stromm, although it's unclear how exactly she's being improved. Regardless, Black Cat is now on the run from Stromm and the people that fund his work. To that end, Stromm sends The Tarantula and The Scorpion to grab her, but they soon find that Silver Sable beat them to the punch. That's where The Hashtag Show's synopsis ends, although it is mentioned that Silver Sable doesn't want to involve Black Cat in her personal battle with Stromm. It's safe to say that that wish won't be fulfilled.
Since Black Cat and Silver Sable haven't had a lot of interaction in the comics,so these rumored plot details are a decent away of pairing the two together without getting Spider-Man involved and still staying true to the characters. And dealing with Stromm, Tarantula and Scorpion may just be the tip of the iceberg for these ladies, because it's been previously rumored that Spidey rogues Chameleon and Tombstone will also appear in Silver & Black. These are a lot of bad guys for the two of them to handle, but if these versions of Silver Sable and Black Cat as formidable and skilled in combat as the ones from the comics, then they'll be up to the challenge.
Silver & Black will be directed by The Secret Life of Bees' Gina Prince-Bythewood, and once a release date is set in stone, we'll be sure to let you know.
Connoisseur of Marvel, DC, Star Wars, John Wick, MonsterVerse and Doctor Who lore. He's aware he looks like Harry Potter and Clark Kent.
Your Daily Blend of Entertainment News
Thank you for signing up to CinemaBlend. You will receive a verification email shortly.
There was a problem. Please refresh the page and try again.