This Rotten Week: Predicting The Hitman's Bodyguard And Logan Lucky Reviews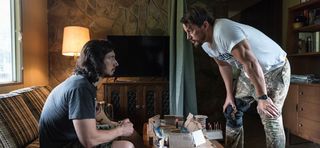 Can you feel the summer sprinting toward a finish line with all of the major blockbusters behind us? That's not to say what's hitting the big screen is all bad, but the seasonal hype has definitely ebbed. This week we get Steven Soderbergh's return and a buddy action movie. Get ready for The Hitman's Bodyguard and Logan Lucky. It's gonna be a Rotten Week!
Just remember, I'm not reviewing these movies, but rather predicting where they'll end up on the Tomatometer. Let's take a look at This Rotten Week has to offer.
What do you get when you put together a one-armed bartender, his simpleton brother, and an escaped demolition man in a mission to rob a huge NASCAR motor speedway? You get the glorious return to the big screen for Steven Soderbergh! Logan Lucky will be Soderbergh's first feature in the director's chair since 2013's Side Effects (83%). And along with Magic Mike (81%) and Haywire (80%), it's his third collaboration with Channing Tatum.
In true Soderbergh fashion, Logan Lucky's cast is awesome from top to bottom. Adam Driver, Daniel Craig, Katie Holmes, Seth McFarland and more round out what looks to be an Ocean's Eleven heist flick gone redneck, replete with laughs, action and fantastic visuals. With 22 reviews in already, the flick is sitting at a solid 100%. I don't see that score coming down much considering how glowing most critics are all in on the lightweight and fun feel of the film. It's Soderbergh back doing what he does best with a great cast to boot.
In what mostly looks like an opportunity for Samuel L. Jackson to set a new record for most times using the word "Motherfucker," and Ryan Reynolds to uphold his snarky/likable demeanor, The Hitman's Bodyguard hits the screens this week. Reynolds is a by-the-book bodyguard tasked with protecting Jackson's "Best Hitman in the World" persona against a bunch of people shooting at them. It looks very light on story and mostly an excuse for joke-cracking between the two, with a bunch of shit blowing up in the background. I'm on board, but I'm getting the sense the bulk of critics won't be.
While it likely has an overall generic feel to it (the trailer didn't provide a single thing of substance), it should appeal to fans of the two actors. They appear to just play themselves while holding guns and cursing at each other. Director Patrick Hughes has a hit and a miss in the action department with Red Hill (78%) and The Expendables 3 (32%). This latest looks like it's going to trend more toward the latter, with it sitting at 50% on the Tomatometer with ten reviews posted. I expect it to drop some over the course of the week, even though I do think there's a core group of viewers who will love this thing.
The Rotten Watch went two for three last time around. _Annabelle: Creation _(Predicted: 78% Actual: 68%) just made the cut, and comes in with a solid score for a horror film. There's a lot of ways this genre can go awry, but coming in close to 70% has to be considered a huge win for the third movie in the franchise. Or the prequel to the prequel.
Meanwhile, The Nut Job 2: Nutty by Nature (Predicted: 10% Actual: 11%) sucked as expected. This struck me merely as a cash grab aimed at kids whose parents don't have the time or inclination to read the reviews of the first in the series. Let's hope we don't see The Nut Job 3: Nut-orious (or some equally awful name).
And finally, The Glass Castle (Predicted: 67% Actual: 50%) missed with many critics, underwhelming as a film adaptation of the best-selling memoir by Jeannette Walls. Those who panned it thought the film didn't strike the same emotional chords as the book, and had a hard time reconciling some of the characters you were meant to "root" for. Not a terrible flick, but I expected the score to be quite a bit higher.
Next time around we've got All Saints, Birth of the Dragon and Leap. It's gonna be a Rotten Week!
Doug began writing for CinemaBlend back when Terminator: The Sarah Connor Chronicles actually existed. Since then he's been writing This Rotten Week, predicting RottenTomatoes scores for movies you don't even remember for the better part of a decade. He can be found re-watching The Office for the infinity time.