Why Star Wars Doesn't Need An Obi-Wan Movie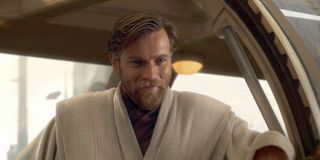 Well, it finally happened. After months of speculation about the possibility, it was reported that Lucasfilm finally has a Star Wars solo movie centered on Obi-Wan Kenobi in development, with rumors suggesting that it could possibly see Ewan McGregor returning to play the character during the gap between the prequels and the original trilogy. This now means Han Solo is about to get some company, as far as Star Wars anthology films are concerned. Plenty of details about the project remain under wraps, but if you're a fan of the expert swordsman and Jedi master, then clearly you have a lot to be excited about.
Having said that, there is an argument to be made that we really do not need a movie solely focused on the life of Obi-Wan, particularly with the franchise already set to go in a new direction when The Last Jedi hits theaters on December 15. On that note, we have assembled a list of reasons why we think an Obi-Wan movie isn't the right direction for the Star Wars universe right now. Check out our arguments and make sure to let us know what you think in the comments below!
Star Wars Needs To Introduce New Characters
Sure, it may have ended with all of them getting blown to smithereens, but Rogue One: A Star Wars Story deserves all of the credit that it can get for bringing new characters into the fold. Even with Darth Vader and Grand Moff Tarkin present, it still managed to level most of its focus on franchise newcomers like Jyn Erso and Cassian Andor. Not everything can be about characters with connections to the Skywalker or Solo families, and the folks behind the Star Wars saga need continue embracing the new over the old. If the same characters (like Obi-Wan) keep popping up, then Star Wars will inevitably become more of a soap opera and less of a space opera.
The Star Wars Timeline Is Bigger Than The Galactic Civil War
The Star Wars franchise has a unique advantage over other big-budget franchises in the sense that it possesses the largest timeline of stories. In-universe, the history of the Star Wars galaxy dates back thousands (if not millions) of years into the past, which means there are other wars, conflicts and times of unrest to mine for a story. It doesn't all need to be about or directly connected to the Galactic Civil War. We could see a movie showing us the Mandalorian War, or an adaptation of the wildly popular Knights of the Old Republic video game. There's no limit to where the franchise can go with its chronology, so sticking with the two or three generations of Obi-Wan's life seems like a wasted opportunity to think bigger.
Obi-Wan's Arc Works Without A Solo Movie
Thinking specifically about the Obi-Wan movie itself, it seems worth mentioning that the character's arc doesn't necessarily require a solo film. Like Han Solo or Boba Fett, certain gaps in Obi-Wan's history are better left unexplored, and stories explicitly laying out what happened to him during his time on Tatooine, his time before the events of The Phantom Menace or even what happened to him after his death could ruin the mystique. For all of the criticism that fans tend to heap upon the Star Wars prequels, the fact of the matter is that Revenge of the Sith wrapped up young Obi-Wan's arc perfectly and offered a great segue to his now iconic "Hello there" in A New Hope.
We Don't Want To See Tatooine Again
For an Outer Rim planet, Tatooine sure seems to be at the center of the Star Wars universe. Nearly every Star Wars movie to feature Obi-Wan Kenobi has visited the desert planet in some form or another, and we think it is time to stop going back to the same well of a dry planet. Sadly, that can't happen if we get a solo movie focusing on Obi-Wan's time in seclusion. Between other desert planets like Jakku and Jedha, the Star Wars universe is becoming increasingly uniform in the types of celestial bodies that it uses. We do not just want new characters; we want to see the new locations that come with those personalities.
Originally from Connecticut, Conner grew up in San Diego and graduated from Chapman University in 2014. He now lives in Los Angeles working in and around the entertainment industry and can mostly be found binging horror movies and chugging coffee.