Star Wars Almost Went With A Much Different Look For Jakku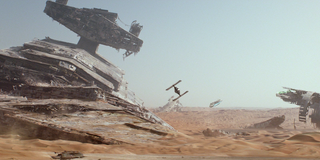 Tatooine now has competition when it comes to desert planets in the Star Wars movies. 2015's The Force Awakens introduced Jakku, the world where one of the final battles between The Rebellion and The Empire took place and where Rey spent most of her life meeting Finn and beginning a Force-filled life of adventure. Like Tatooine, Jakku certainly isn't a great destination for vacationing in a galaxy far, far away, but the new desert planet was originally envisioned as a more conventional "junk planet." Take a look at the artwork below for a better idea of where Rey almost grew up.
During Star Wars: The Force Awakens' development, artist Erik Tiemens created the above designs when the creative team was in discussions about including a "junk planet" in Episode VII. This artwork depicts the "Junk Castle Landscape," which has a lot more abandoned Imperial ships and vehicles than Jakku did in the movie's final cut. A jungle planet was also considered (though the junk world was considered the "cooler" concept"), but eventually they decided to go the desert route.
This official Star Wars Instagram post also revealed that an early The Force Awakens draft included a protagonist named Kira, who is described as a "loner, hothead and gear-head." Presumably this is the character that eventually morphed into Daisy Ridley's Rey, as she also fits the "loner" description (at least while she was on Jakku) and has an aptitude with vehicles and piloting (the "hothead" part, not so much). As a final fun fact, that crashed Star Destroyer that was arguably Jakku's most striking visual was originally supposed to be the wreckage of an Imperial space station.
While Jakku sufficed as an unfriendly environment for Rey to become self-sufficient, this junk world would have been a more unique offering to the Star Wars universe. Tatooine has been featured in four of the live action Star Wars movies, so audiences are already familiar with how tough it is to live in such a climate and how much sand sucks. A junk world, on the other hand, is something that hasn't been seen yet in any of the movies, and while Jakku had its fair share of garbage laying around, it's not the same as having an entire planet that's cluttered. Having so much junk certainly would have made Rey's life easier, as there would be a lot more trinkets and knick knacks for her to trade or fix to use for survival.
It remains to be seen if Jakku will be revisited in future Star Wars movies, but the saga continues later this year when Star Wars: The Last Jedi is released in theaters on December 15.
Your Daily Blend of Entertainment News
Connoisseur of Marvel, DC, Star Wars, John Wick, MonsterVerse and Doctor Who lore. He's aware he looks like Harry Potter and Clark Kent.