What Happened To The Snow Leopards After Born In China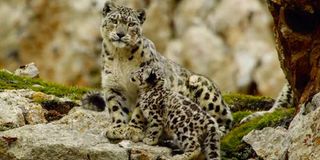 Spoilers if you haven't caught Disney Nature's latest documentary Born in China, yet.
Disney has been doing a lot of work on conservation and nature-related awareness in recent years, thanks to efforts through the Disney Conservation fund and documentaries meant to educate families about wildlife all around the world. Disney's latest venture was Born In China, a lush documentary that caught viewers up with pandas, golden snub-nosed monkeys, chiru and snow leopards in the wilds of China. The movie ended up on pretty specific notes for each of the animal groups that were followed, leaving us to wonder what happened to Dawa's cubs and more after the events in the movie. If you've been wondering yourself, luckily producer Roy Conli had a lot to say about what happened next.
Speaking to Roy Conli ahead of the Blu-ray release of Born in China, we had to ask what happened to Dawa's cubs after the harsh realities of living in the wilderness became a key part of the documentary's storyline. As it turns out, their fate was left up in the air for quite a while, but here's what he says director Chuan Lu was eventually able to learn.
If you haven't watched Born in China, yet, you should know the snow leopard story was one of the most heartfelt and affecting in the film. When last we left the young snow leopards, their fate was very much up in the air, leaving many viewers, myself included, to wonder what happened next and whether Dawa's cubs had survived in the wild after their mother's untimely passing. So it's encouraging to hear they were still hanging in there weeks after the movie finished filming over 400 hours of footage over a whopping 256 days.
Of the other three storylines in the movie, the other storyline that was up in the air the most was that of Tao Tao's. When last we left the young snub-nosed monkey, he had left the Lost Boys group and reunited with his family, and while the filming crew didn't check back in on the juvenile Tao Tao, Conli believes that the monkey's fate may be among the most interesting of all the animals filmed.
Born in China was great about giving us intimate looks into the lives of animals that are very rarely filmed in the wild. In fact, filming the snow leopards--aka what Conli calls "the most elusive animals on the planet"-- was incredible for many reasons, but one big one was the fact that filmmakers became the first to be able to catch snow leopard cubs on film for the first time. We also learned from Born in China that Mei Mei would eventually be alone in the wilderness and more, but it's reassuring to know that Dawa's cubs survived even in the harsh realities of their circumstances in the wilderness. Something tells me that Tao Tao grew up to be quite the ladies man, too, but maybe that's wishful thinking on my part.
If you haven't caught Born in China yet, you can check out an exclusive look at the documentary here. Or take a look at the Disney movie out on Blu-ray, DVD and Digital starting on August 29.
Amazing Race & Top Chef superfan with a pinch of Disney fairy dust thrown in. If you've created a rom-com I've probably watched it.
Your Daily Blend of Entertainment News
Thank you for signing up to CinemaBlend. You will receive a verification email shortly.
There was a problem. Please refresh the page and try again.