The Downsizing Trailer Is Mysterious, Will Make You Wanna See The Movie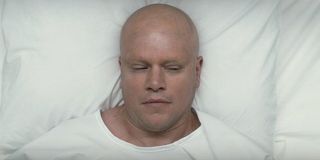 Man, am I glad I managed to see Alexander Payne's Downsizing before this first trailer. Because this is a difficult movie to sell. In my own report from this month's Toronto International Film Festival, I encouraged audiences to go into the film knowing as little as possible, and this first clip sets the stage while maintaining most of the film's secrets. You can watch this, but really, make this the last thing you view before seeing this later this year!
I admire whomever cut this trailer for Alexander Payne's Downsizing, because it properly establishes sort of what the movie is about, while keeping the film's various left turns under wraps. Yes, the movie is triggered by a scientific breakthrough, where we learn how to shrink people to combat world population. But that's scratching the surface of where this movie goes. You will see.
What I can tell you is this: As you might expect from an Alexander Payne movie -- he's responsible for biting satire like Election, About Schmidt, Sideways and The Descendants -- what you see on the surface is not really what the film will end up being about. Downsizing, among other things, starts to probe our desire to better ourselves through self-help processes, pursuing that notion that the proverbial grass is going to be significantly greener on some other side, when -- in truth -- happiness is usually staring us right in the face, and we're too busy looking down the road to notice it.
So far, though, Downsizing has been polarizing crowds at top festivals. Venice crowds adored it. Telluride crowds didn't care for it. Toronto crowds were mixed. I can see how the sci-fi premise and low-wattage approach to some of the effects might distract from the big-picture questions probed by Downsizing. It makes a number of unusual choices. But I loved being caught off guard by this unusual journey, and I highly recommend seeing where this movie goes, especially if you tend to like Alexander Payne's subtle sense of humor.
And now, the wait begins. The trailer for Downsizing says it is getting a Christmas release (December 22, to be specific). That puts it right in the path of so many like-minded adult movies, like Steven Spielberg's The Post, or Hugh Jackman's The Greatest Showman. And, of course, theaters will still be packed with Star Wars fans taking in The Last Jedi. Knowing what you know about Downsizing, do you think you will check it out?
This poll is no longer available.
Movie junkie. Infatuated with comic-book films. ReelBlend cohost. Resident dad. Extroverted introvert. Wants to see the Snyder Cut. Managing Director at CinemaBlend.