What Kind Of Star Trek Movie Quentin Tarantino Would Like To Make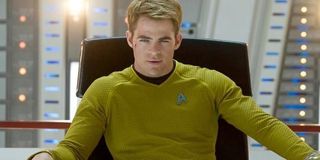 The Star Trek franchise has lasted for over 50 years and it's still going strong. While we wait for the fourth entry in the J.J. Abrams-led reboot, another major director has an idea of what he would love to do with Star Trek. Quentin Tarantino was recently asked what sort of a Star Wars he would be interested in making, but his response was that he'd actually be more interested in adapting Star Trek. The Pulp Fiction director admits to being a huge fan of The Original Series and says he thinks that some great movies could come from simply adapting and expanding actual episodes from the 1960s version of the franchise. According to Tarantino...
Quentin Tarantino admits that the major hindrance to making such an adaptation would be finding something for all of the characters to do. He points out to the Nerdist Podcast that many of the original Star Trek episodes only focused on a few of the characters, mostly due to the fact that the show didn't have the time or money to do more. Still, he thinks some of the episodes would make great movies.
Quentin Tarantino admits to really liking the original J.J. Abrams Star Trek but say the sequel, Star Trek Into Darkness didn't work for him nearly as well because he felt that changing Original Series characters like Khan from Ricardo Montalban to Benedict Cumberbatch (whose name Tarantino seemingly never gets right) was wrong. He would have preferred to see the new timeline progress closer to the original one, and he sees the reboot as an opportunity to expand on those old stories, rather than change them.
The director specifically mentions "City on the Edge of Forever" as an episode that would make a great movie. It's one of the great Trek classics, but as Quentin Tarantino pointed out, the episode really only focuses on our main three of Kirk, Spock, and McCoy, and the rest of the crew would be virtually non-existent. That wouldn't really work for a modern film adaptation. You've got to find something for Zoe Saldana and John Cho to do.
Quentin Tarantino makes it clear that any ideas he's had regarding making a Star Trek movie are just ideas and he's never done any real work in that direction. We're expecting another movie in the current reboot franchise down the road, but after that, the schedule is probably open. Maybe somebody should talk him into it.
Content Producer/Theme Park Beat
CinemaBlend's resident theme park junkie and amateur Disney historian. Armchair Imagineer. Epcot Stan. Future Club 33 Member.
Your Daily Blend of Entertainment News
Thank you for signing up to CinemaBlend. You will receive a verification email shortly.
There was a problem. Please refresh the page and try again.