11 Big Movies Coming To Theaters In October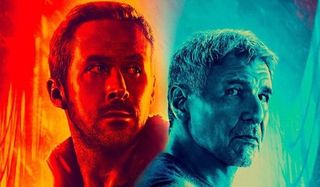 It's hard to believe we're already staring down the schedule for October delights at the movies, and yet here we are. It felt like only yesterday we were lamenting this past summer's sting and looking to see what was coming in September that would ease the pain. The first official month of fall brings with it an exciting mix of long awaited/hyped films, some prestige players looking to get an early lead, and a couple of surprises as well. Time to dive in and see what October is set to bring to the box office!
Blade Runner 2049
If the three-decade+ wait for Blade Runner 2049 doesn't have you anxious to see what Denis Villeneuve's follow-up looks like, then we're not sure what will. The stunning-looking sequel to Ridley Scott's '80s classic has been generating a strong amount of buzz through critics, with fans still trying to temper their expectations, as they've been burned before. Still, even with tempered expectations, this movie looks like it's going to crack the box office wide open and blow some minds when it finally hits.
Opening: Friday, October 6th
The Mountain Between Us
With the awards pre-season starting to heat up, films that made a debut at the Toronto International Film Festival will start making their way to the public's eager eyes. The Mountain Between Us is aiming for just that, as the film adaptation of the Charles Martin-penned novel sees Idris Elba and Kate Winslet fighting for their lives, and quite possibly an Academy Award nomination. With a plane crash bring them closer together as they're separated from the outside world, Elba and Winslet will race the clock to get home and thrill the audience in the process.
Opening: Friday, October 6th
The Foreigner
If Liam Neeson's Taken was never the mega hit it turned out to be, we'd never have the steady stream of movies where older action stars are kicking ass and taking names. The Foreigner is the latest entry in that craze, as Jackie Chan fights European terrorists to avenge his dead daughter. With Pierce Brosnan playing the film's lead villain, here's hoping he still has some Bond style moves to use against Chan's one man path of destruction.
Opening: Friday, October 13th
Happy Death Day
If Groundhog Day were a slasher film, it'd be Happy Death Day. It's a deadly simple film to set up, as a young college student must solve her own murder through repeatedly living it, with each day bringing her closer to the truth of her attack. While some might scoff at the prospect of such a concept, it's hard to argue that it doesn't work, as Edge of Tomorrow basically did the same sort of thing, but with a sci-fi action twist. It's even harder to argue against how ridiculously fun the trailer set the movie up to be, and given the opportune release date, we're there in a heartbeat.
Opening: Friday, October 13th
Marshall
Chadwick Boseman's primary claim to fame is his role as Marvel's Black Panther lead, Prince (now King) T'Challa, but besides his MCU credits, Boseman has some solid biopic work on his resume. And in Marshall, the man who brought Jackie Robinson and James Brown to life on the big screen will tackle the first African-American Supreme Court justice, Thurgood Marshall. A story based off of a case earlier in his career, Marshall will showcase courtroom drama, as well as personal struggle, as the up-and-coming lawyer tries to make a name for himself while defending what he knows is right.
Opening: Friday, October 13th
Professor Marston And The Wonder Women
With Wonder Woman making a box office killing this past summer, it was only a matter of time before someone told the story of how this famous DC hero was created. Professor Marston and the Wonder Women sees Luke Evans playing the titular professor, who, with this inspiration of his wife and mistress, created a character that went from controversial to canonical. The intricacies of Marston's personal and professional life are on full display, telling a tale that the public at large probably never knew existed. With Diana of Themyscira becoming a hot property at the box office, it's good to know that the story behind her creation will also see the light of day.
Opening: Friday, October 13th
Geostorm
Admit it: there's a soft spot in your heart for the Irwin Allen/Roland Emmerich disaster picture model. An all-star cast, lead by Gerard Butler, will face some stormy weather as Geostorm shows what happens when a technological apparatus that controls the world's weather falls into the wrong hands. If you can get past the flashbacks to 1998's The Avengers, then you're probably ready to see Emmerich partner/apprentice Dean Devlin take the director's chair and make a movie that only someone familiar with that ilk could. Filling out the all-star cast is the likes of Andy Garcia, Jim Sturgess, Ed Harris and Abbie Cornish. The betting pool on who makes it out alive starts...now!
Opening: Friday, October 20th
Tyler Perry's Boo 2! A Madea Halloween
Laugh if you must, but Tyler Perry is still a bankable creator of content, with the original Boo! A Madea Halloween bringing in a healthy amount of coin in its run last year. So naturally, like any good horror franchise, Madea is back again to face off against the spooky and the unexplained. But if you're one of those folks who likes scary movies that are a little more on the funny side, Boo 2! A Madea Halloween should be a safe port in this spookier time of year.
Opening: Friday, October 20th
Jigsaw
You'd think that a 10th anniversary re-release of Saw bombing harder than ever would have stopped Jigsaw from being made. But you can't keep a good franchise down, and the fact that Tobin Bell's John Kramer is somehow back in action is enough to even make the most jaded fan interested. In a world that's sadly light on active horror franchises which consistently deliver, Jigsaw could possibly revive the old Lionsgate standby in a bloody and satisfying fashion. At the very least, it feels extremely comfortable to have a Saw movie opening around Halloween again.
Opening: Friday, October 27th
Suburbicon
George Clooney, Grant Heslov and the Coen Brothers wrote a movie together, albeit in two separate partnerships. The fact that a film like Suburbicon exists and has that sort of writing credit magic under its hood is something we're still excited about. The dark comedy, also directed by Clooney, focuses on 1950's Matt Damon trying to keep it together for his family after his debts to the mob have lead to some... misfortunes, shall we say. Co-stars Julianne Moore and Oscar Issac help and hinder those efforts, respectively, and the results look to be so chaotic that it could only come from a group of folks such as these.
Opening: Friday, October 27th
Thank You For Your Service
It's been a while since we've heard from Miles Teller, and this month he returns with two films: Only The Brave, and Thank You For Your Service. We've chosen the latter film on this month's lineup because it's of a genre that is ever more important today than it's ever been: it's the story of our soldiers, and what happens when they come home. Based on David Frankel's non-fiction book of the same name, the film shows the struggle of the men and women of our armed forces as they try to adapt to life at home. While it wouldn't surprise us if Teller's performance earns raves, the bigger surprise will be whether Amy Schumer's supporting role breaks the comedic mold for her career path thus far.
Opening: Friday, October 27th
Your Daily Blend of Entertainment News
Senior Movies Contributor
CinemaBlend's James Bond (expert). Also versed in Large Scale Aggressors, time travel, and Guillermo del Toro. He fights for The User.
Your Daily Blend of Entertainment News
Thank you for signing up to CinemaBlend. You will receive a verification email shortly.
There was a problem. Please refresh the page and try again.