9 Movies Opening In September We Can't Wait To See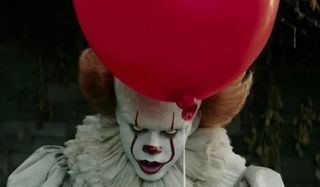 September means a couple things: back to school season is in the air, Halloween merchandise will start to flood your local stores, and the summer movie season is typically finished. So going into this month, we were afraid that we'd come up with a list of barely interesting films that represented the "best" of the hypothetical best. Lucky us, this September has some killer picks when it comes to the realm of theatrical entertainment, with two of the movies in this list acting looking like they'll really clean up.
Don't take our word for it though, as you can see the list for yourself, starting with our first pick below.
Close Encounters Of The Third Kind
While Close Encounters of the Third Kind isn't exactly a new release, any chance to see Steven Spielberg's classic about extraterrestrial contact on the big screen is something we'll gladly endorse. If you've seen it before, then obviously this re-release will be perfect fodder to relive some fine memories. But if you've never seen it, or know someone who hasn't experienced it before, then now's as good a time as any to introduce your friends and family to the majesty that is Close Encounters of the Third Kind.
Opening: Friday, September 1st
IT
We've been looking forward to IT for some time, and the positive buzz is only growing louder with each passing moment. To make things even more fever pitched, recent reports are predicting that director Andres Muschetti's spirited re-interpretation will have quite the killer opening weekend. A lot of good faith is in the air with this movie, and we really want it to arrive already for two reasons: the wait will be finally be over, and we'll be able to estimate how many lights we'll need to leave on in the name of safety.
Opening: Friday, September 8th
mother!
One fantastic looking horror movie is usually hard enough to find. But September is bringing us what looks like two heavy hitters of dread and bloodshed. In the case of mother!, it looks like Darren Aronofsky is returning to his old Black Swan tricks, using mystery and calculated shocks to throw the audience off the scent of what his latest film really is. To be perfectly honest, knowing that Jennifer Lawrence, Javier Bardem, Ed Harris, and Michelle Pfeiffer were teaming up with Aronofsky was all we needed to get us into the theatre. But it's might generous of the studio to give us some nightmare fuel trailers that have us even more on edge.
Opening: Friday, September 15th
Brad's Status
The one big thought we had while watching the trailer to Ben Stiller's latest dramedy, Brad's Status, is that this would make a fantastic double feature with The Secret Life of Walter Mitty. While the former feels like more of a grounded, somber counterpart, the Mike White written / directed film does provide a balance to the more whimsical dreamer friendly story of the latter. The common thread through both looks to be Stiller's quiet yet powerful dramatic prowess, which tends to really shine in stories such as the East Coast voyage of a father who looks back with regret, and a son that looks ahead in wonder. And, quite frankly, this variant of Ben Stiller is our absolute favorite.
Opening: Friday, September 15th
Battle of the Sexes
Steve Carell and Emma Stone are a pair of actors we can't get enough of, especially when they team up on movies like Battle of the Sexes. A retelling of the dramatic match-up between known feminist Billie Jean King and known chauvinist Bobby Riggs, the film not only reteams its co-stars, but also throws Carell back to work with his Little Miss Sunshine directors Jonathan Dayton and Valerie Faris. It's early to even start discussing serious awards buzz, but we're already pencilling this movie into our prestige pool, as everything we've seen so far has really impressed us.
Opening: Friday, September 22nd
Kingsman: The Golden Circle
Kingsman: The Golden Circle is the follow-up to Kingsman: The Secret Service, and this is why you should see Kingsman: The Golden Circle. What, you need more excuses to go see this movie? Ok... that's fair. How about the fact that this follow-up to the surprise smash of 2015 looks like it's going to be even crazier than its older sibling? Or maybe you're interested in Julianne Moore playing a Martha Stewart-like character who has Bond villain ambitions? Honestly, if we haven't sold you by now, then the fact that Channing Tatum and Jeff Bridges are playing ridiculously southern charmers with special spying abilities probably won't do much to sway you. But seriously, Tatum and Bridges as Kentucky super-spies really should seal this deal.
Opening: Friday, September 22nd
The Lego Ninjago Movie
It may not have been a stellar year for animation so far, but if The Lego Ninjago Movie lives up to its trailer, it's going to be a hell of a year for the Warner Bros' animation stable. Seeing as The Lego Batman Movie was already a fantastic success, it's nice to see that the results of that film are more of a careful cultivation of the LEGO brand, rather than just a fluke of licensing. Not to mention, it's nice to know that The Nut Job 2: Nutty By Nature will be Jackie Chan's only animated appearance this year. Yeah, it's been a while since we've seen a good animated movie, and The Lego Ninjago Movie just might be the next one.
Opening: Friday, September 22nd
American Made
Tom Cruise and Universal could use a win, particularly after the well-intentioned The Mummy didn't exactly scare up the box office business it was hoping for. However, American Made just might be the movie that will help undo the damage that the Dark Universe has done to the partnership between the charismatic star and his current studio partner. Then again, it's hard for us to really think ill of this film, as Doug Liman is directing, which brings back some serious Edge of Tomorrow memories; and Domhnall Gleeson looks like he's going to steal the show as Cruise's CIA contact in this true story.
Opening: Friday, September 29th
Flatliners
It'd be a total lie to say we're not afraid the new Flatliners will possibly turn out to be a bust. However, we're not as worried as we once were, thanks to a campaign that's shown some promising footage coming out of this semi-reboot. Although as much fun as this new crew looks to be having, we're extremely interested to see just how Kiefer Sutherland's returning character will react to, and possibly influence, this new round of medical tomfoolery. Fingers crossed for a full reunion crossover should the more modern Flatliners work out well.
Opening: Friday, September 29th
CinemaBlend's James Bond (expert). Also versed in Large Scale Aggressors, time travel, and Guillermo del Toro. He fights for The User.