12 Film Detectives You Need To Call When There's A Murder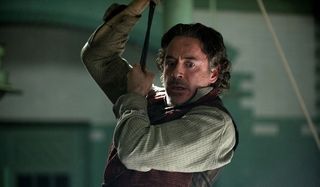 Picture the following scenario: you're minding your own business, say at a party or on a long train ride home, and all of a sudden, BAM! There's been a murder. Some poor sap's ticket to the great skyline has been punched, and you know for sure you didn't do it, much like the folks in this weekend's Murder on the Orient Express. But who did? Well, if you're a detective, you'll be able to figure it out in no time. But if you aren't, you're going to need someone smart to connect the dots and handle the riff raff. If you're in need of a gumshoe during such troubled times, consider the following list your Yellow Pages for the top film detectives who can take your case.
Jake Gittes - Chinatown
In all honesty, you're going to be hard pressed to find a case as messed up and twisted as that of Chinatown. With land purchases, bureaucratic conspiracy and a heaping helping of abuse, private detective Jake Gittes goes from being hired to tail someone's husband to trying to save the lives of two women who really need it. And in the middle of it all, he solves a murder case, which only feeds into the larger conspiracy at hand. So if you're thinking of hiring Jake, you're going to get more than you bargained for, including expenses and medical.
Eddie Valiant - Who Framed Roger Rabbit
The fact that the alcoholic Eddie Valiant can speak or walk straight, much less solve the mystery of Marvin Acme's unfortunate "cacking" at the heart of Who Framed Roger Rabbit, is a mystery even we can't solve. But this legendary detective with a history of working Toontown was able to put aside his prejudice, sober up enough to see the truth and uncover a web very similar to that of Jake Gittes' mystery. So hiring him to do the job is gonna require a bit of money and a rocks glass of the good stuff, but he's worth every drop.
Inspector Clouseau - The Pink Panther
Sometimes, clumsiness pays. Just ask Inspector Jacques Clouseau, one of France's finest bumblers/minor league detective. Through several adventures in The Pink Panther mythos, Clouseau has tripped, slipped and ripped his way to the truth, with barely a thought in the right direction. But somehow he manages to get the girl, recover the loot and find the culprit pretty handily - even if he doesn't know it. He might be an idiot, but he's an idiot with divine guidance and protection. Neither would hurt when inspecting a cold corpse's unfortunate circumstances.
Sam Spade - The Maltese Falcon
Sam Spade is, by conventional standards, not a good guy. He's not only a hot head that sometimes jumps into trouble feet first, he's also the type that'd lust after his trusted partner's wife. While he may not be the best person in the world, he's The Maltese Falcon's damned fine detective with some semblance of scruples left. Despite a rare statue being the inspiration for many bribes and woes in Mr. Spade's life, getting justice for his murdered partner is his main goal. You can see it at the end of the film when, despite falling for his partner's beautiful murderer, he turns her in. It's the right thing to do, and it's what you can count on Sam to do in spades.
Hercule Poirot - Murder on the Orient Express
You might think it a cheat to include Hercule Poirot from Murder on the Orient Express in a list of detectives inspired by said film, but hear us out. The character has had a long legacy of being a methodical crime solver, as he views the world in its supposedly perfect order and always notices the details that stick out of sorts. And judging by the mystery he solves in what's arguably his most popular adventure, his skills are more than adept to solving even the toughest murder mystery. If you have something to hide, and you've hired Poirot, you'd better watch your 'stache.
Brendan Frye - Brick
Never count out a man with his heart on his sleeve, for it'll lead him to all sorts of trouble. Brick's Brandon Frye practically traipses through his hometown with blood pumping from his coat, as he searches for the people behind the tumultuous drug scene that took his ex-girlfriend's life. Just by looking at him, you'd think he's a scrawny runt that can't defend himself. But between his brainy associate and his own prime investigative skills, he's able to map out an entire criminal underground in a short window of time. If you hire him though, make sure he's forewarned of any femme fatales that might be lurking, as that's his one, true weakness.
Detective William Somerset - Se7en
Some folks choose to take it easy and slow things down before they retire, especially in high stress professions such as that of a homicide detective. The same cannot be said about Detective William Somerset, one of the two leads in David Fincher's Se7en. While he may be aged, he's not dead to the skills needed to close a case. Partnered with a younger, brasher detective, his brain power helps decode the mystery of the murders perpetrated by the man only known as "John Doe", a serial killer pursuing a line of killing inspired by the seven deadly sins. If you want to get into the head of your killer right to the root of their psyche, Detective Somerset is one of the finest candidates for the job.
Margie Gunderson - Fargo
Police work isn't always about waving a gun around or beating up a suspect. Sometimes it's having a polite chat with someone you know to be guilty, and allowing them to wrap themselves up for your apprehension. Margie Gunderson, the chief of police to Fargo's Brainerd, Minnesota, is one of those folks who can lure you in with that false sense of security and gentility, only to reveal she's been onto you the whole time. She's as nice as she is intelligent, and if you choose her for your murder investigation, you might just find yourself hanging out with her after the villains have been captured.
Sherlock Holmes - Sherlock Holmes
How do you put together a list of exemplary detectives and not doff your cap to the great Sherlock Holmes? No matter which incarnation you're fond of, Holmes' reputation precedes him, but for the sake of our current discussion, we'll go with Robert Downey Jr's performance in Guy Richie's Sherlock Holmes duology. Which means that in addition to Holmes' usually dry wit and pinpoint deduction skills, we have a detective who can engage in fisticuffs like the best ruffian. If you hire Holmes, it's not a matter of if your murderer will be caught, but when.
Cory Lambert/Jane Banner - Wind River
While Wind River's team is the only pair on this list, that doesn't make them any less effective than even the other great detectives. On the investigative end, you have Elizabeth Olson's Jane Banner: an FBI agent that's still a little green, but packs whip smart intellect and procedural knowledge. But the case in Wind River needs someone familiar with the land, which is where Jeremy Renner's Cory Lambert comes into play, as he's a local with extremely good tracking skills. Even in the middle of the frozen plains, Lambert and Banner can nail a perp in a heartbeat.
Detective Edmond "Ed" Exley - L.A. Confidential
The son of a fine officer slain in the line of duty, Detective Edmond Exley from L.A. Confidential is an ambitious Boy Scout by time the film starts his rise to his rank at the end of the film. Cutting his teeth on the infamous Night Owl murder case, Exley learns a lot about the department's way of handling things, both physically and politically. By the end of the film's events, Ed not only knows how to corner the dirty element in the department into giving him what he wants, he leaves the streets of L.A. a little cleaner. Tenacious, with a cutting interrogation style, Detective Exley cracks the clues that help land confessions.
Senior Movies Contributor
CinemaBlend's James Bond (expert). Also versed in Large Scale Aggressors, time travel, and Guillermo del Toro. He fights for The User.
Your Daily Blend of Entertainment News
Thank you for signing up to CinemaBlend. You will receive a verification email shortly.
There was a problem. Please refresh the page and try again.