Who Some Of Captain Marvel's Skrull Villains May Be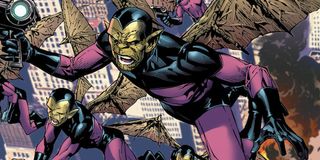 The Skrulls have long antagonized Marvel's heroes in comic book pages, and we're now over a year away from their cinematic counterparts doing the same. It was announced at San Diego Comic-Con this past summer that Brie Larson's Carol Danvers will battle these shape-shifting aliens in Captain Marvel. Due to the Skrulls being important Fantastic Four adversaries, there are certain members of this species that the Marvel Cinematic Universe won't be able to use due to 20th Century Fox holding the rights, such as Super-Skrull. However, Marvel still has some specific Skrulls available, and it's possible that the ones who will grace Captain Marvel will include Titannus, Anelle and Dorrek VII.
Three casting descriptions have surfaced for roles in Captain Marvel. The first is for Alpha, which is looking for an actress between 29-40 years old who has fight experience, though it's preferred if they also have dance or gymnastic experience. The second role is dubbed Delta, which is casting an actor between 29-40 years old who is over six feet tall, "broad shouldered and muscular." Finally, the third role is simply called Supporting Male #2, and this actor must be between 35-45 years old, and must be "chiseled, cocky guy who is large in stature, but not as big as Delta." That Hashtag Show, which provided these descriptions, is under the impression that all three of these characters are Skrulls. and that Titannus, Anelle and Dorrek VII are the likeliest candidates for Supporting Male #2, Alpha and Delta, respectively. It's worth taking all this with a grain of salt, though this trio has certainly left
Titannus was introduced in 2005 as a Skrull who lacked his species' natural shapeshifting ability, but gains super strength and enhanced healing after taking part in the Super Skrull experiments. However, during his first mission, he was brainwashed by the inhabitants of the planet Trellion, and this eventually led to traveling to Earth and causing mass destruction while fighting the Avengers. Anelle was introduced in 1965 as the daughter of ruler Dorrek VII, who debuted two years earlier. Dorrek VII sat on the throne during the Kree-Skrull War, and while he stopped at nothing to hold power and ensure that the Skrulls reigned supreme, Anelle was a more sympathetic figure, and she fell in love with Kree protagonist Mar-Vell. Given that Mar-Vell will reportedly be a major player in the Captain Marvel movie, perhaps we could see a similar scenario unfold in the MCU. As for Titannus, no doubt he would serve as the main Skrull "muscle."
Although the Skrulls are being hyped up Captain Marvel's main antagonist, that doesn't necessarily mean they will be the movie's only nefarious forces. Last month, it was reported that Rogue One star Ben Mendelsohn was reported to be in talks to play Captain Marvel's main villain, and early this week, it was rumored that this character is Yon-Rogg, a Kree operative that has a grudge against Mar-Vell, who Jude Law is in talks to play. So when it comes to personal conflict, Yon-Rogg may be the primary baddie in Captain Marvel, though the Skrulls would still have the numbers that threaten to overwhelm Earth.
Captain Marvel flies into theaters on March 8, 2019. Check out or Marvel movies guide to see what other MCU projects are in various stages of development.
Your Daily Blend of Entertainment News
Connoisseur of Marvel, DC, Star Wars, John Wick, MonsterVerse and Doctor Who lore. He's aware he looks like Harry Potter and Clark Kent.
Your Daily Blend of Entertainment News
Thank you for signing up to CinemaBlend. You will receive a verification email shortly.
There was a problem. Please refresh the page and try again.