Captain Marvel's Movie: What We Know So Far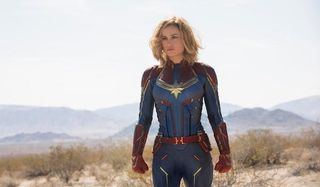 It's true that DC Comics has beat Marvel Studios to the box office with their first female-led superhero blockbuster in the form of 2017's Wonder Woman, but the folks at the House of Ideas truthfully aren't trailing too far behind. As was officially announced in October 2014, the comic book studio is officially moving forward with a Captain Marvel movie, and it will be here before we know it.
Given the source material and the talent involved, it's easily one of our most anticipated projects of the coming year, and we'll be keeping a very close eye on it. It's for this reason that we've organized this guide, used to keep track of all the latest developments of the Captain Marvel movie. So, where do things currently stand, and what do we know so far? Read on and find out!
What Have We Seen From Captain Marvel?
Actually, because the premiere of Captain Marvel is less than a month away as of this writing, we've gotten a pretty good look at the film and what at least some of the main themes will be. Both trailers, combined with a quick teaser that was shown during the Super Bowl and other footage have given us a good look at the main players, delved into some of the issues that will be faced and shown off some amazing action sequences as well as given us a taste of Captain Marvel's powers.
What Is Captain Marvel's Release Date?
As far as Marvel Studio's Phase Three slate goes, Captain Marvel sits in an interesting position. While the film was originally announced for release on July 6, 2018, project additions (and the introduction of Spider-Man to the Marvel Cinematic Universe) led to schedule changes that wound up with the blockbuster having its current March 8, 2019 date. This is a bit odd for the comic book movie studio, as they've never put a feature in March before. What makes the placement more interesting is where it lands within the slate - specifically between Avengers: Infinity War on April 27, 2018 and Avengers: Endgame on April 26, 2019.
Why is this significant for Captain Marvel? At the end of Avengers: Infinity War, Nick Fury (we'll talk more about him later) activated a spruced-up pager that displayed the Captain Marvel insignia right before he was turned to dust by the Thanos snap. This gave audiences the first hint of Carol Danvers' existence in the MCU, leaving Captain Marvel to officially introduce her to us, and almost two months after that, she'll return for Avengers: Endgame to aid the surviving heroes in fixing what the Mad Titan wrought.
What Is Captain Marvel's Rating?
The MPAA doesn't give ratings to movies until they are just about finished and getting ready for theatrical release, but even with Captain Marvel a few weeks away we can already guarantee the film's rating: PG-13. How do we know this? Because every Marvel feature to this point has been rated PG-13, and it's been confirmed by the CEO of Disney that there are no plans to make an R-rated Marvel Cinematic Universe title any time soon.
It makes sense for Marvel Studios to stick with PG-13 ratings in general, given that most of the characters from the comics lend themselves to a younger-skewing audience anyway, and Captain Marvel doesn't buck that trend. The blockbuster will surely have moments of intense and thrilling action, and possibly a cuss word or two tossed in for humor, but this movie is going to be made so that it's accessible to audiences of all ages.
Who Is Captain Marvel?
Created by writer Roy Thomas and artist Gene Colan, Ms. Marvel (Carol Danvers' original moniker) first debuted in Marvel Comics in 1977, but it was nine years before that when readers were introduced to her alter ago. While serving as a member of the United States Air Force, she was present during the explosion of a device created by the Kree (an alien race you may remember from Guardians of the Galaxy). As a result of this accident, Danvers' human genes were fused with alien DNA, and the result was that she gained super powers.
Captain Marvel is super strong, can fly, both absorbs and projects energy, and even has limited precognitive abilities. In addition to her own run of comics, she's also been a part of many different teams and organizations over the years in the Marvel world, including The Avengers, S.H.I.E.L.D. and the Guardians of the Galaxy.
Who Will Play The Lead?
The casting process is easily one of the most exciting parts of any developing superhero project, and for the Captain Marvel movie both actors and fans alike made their voices heard when it came to selecting who would play Captain Carol Danvers in the Marvel Cinematic Universe. Over the years we heard many suggestions, including Bryce Dallas Howard, Katheryn Winnick, Emily Blunt, Jessica Chastain, Katee Sackhoff, and Shailene Woodley. Ultimately only one actress could get the gig, however, and that actress is Brie Larson.
Fans started buzzing about Brie Larson as a potential Captain Marvel candidate after she won the 2016 Best Actress Oscar for her performance in Room, and in June 2016 trade reports began saying that Larson was in talks with Marvel Studios for the part. It wasn't until about one month later at San Diego Comic-Con 2016 that Marvel made the news official, bringing their new star on stage to meet the fans for the first time.
Who Will Direct?
As far as time between project announcement and director selection goes, Captain Marvel basically set a record for Marvel Studios - but the hunt did eventually come to a conclusion in April 2017. There were numerous reports about potential candidates for the job, including Angelina Jolie, Elizabeth Wood, Niki Caro, Jennifer Kent, and Rachel Talalay. Ultimately, however, it was decided that the movie would be the first blockbuster directed by filmmaking duo Anna Boden and Ryan Fleck.
Given that the filmmakers are primarily known for their work on independent features, it's hard to say exactly what it is about Anna Boden and Ryan Fleck that Marvel Studios felt made them a good fit for Captain Marvel. That being said, their resume is impressive. They broke out on the scene with 2006's Oscar-nominated Half Nelson (which Fleck directed and they both co-wrote), but since then they've worked on projects like It's Kind of a Funny Story starring Zach Galifianakis and Mississippi Grind with Ryan Reynolds and Ben Mendelsohn.
What Will Captain Marvel Be About?
With no director attached for years, Captain Marvel has remained a long-lasting mystery in the plot department - with the only information available being word from Marvel Studios President Kevin Feige that the film would be an origin story. The veil finally lifted during the Marvel Studios panel at Hall H during San Diego Comic-Con 2017, however. For starters, while many expected that Captain Marvel would be set in between the events of The Avengers: Infinity War and Avengers 4, it turns out that's not the case. In fact, the blockbuster will be the first in the franchise to extensively explore the events of the Marvel Cinematic Universe during the 1990s.
But wait! There's more! As though it weren't cool enough that the film is a period piece, Kevin Feige also confirmed that Captain Marvel will be the first MCU blockbuster to feature the alien race known as the Skrulls. Famously in perpetual intergalactic conflict with the Kree (mentioned earlier in this piece), this legendary alien species from Marvel Comics is a race of shape-shifters who have created some serious drama in Marvel history (ahem). We don't precisely know what they are up to in the 2019 blockbuster, other than the fact that it involves infiltrating Earth, which obviously isn't good.
Of course, that isn't the end of it either. It turns out that Captain Marvel will feature a familiar Marvel Cinematic Universe character who will cross paths with Carol Danvers during the craziness. It's been announced that Samuel L. Jackson will have a key supporting role in the film as Nick Fury, and it's been revealed that he will still have two eyes at the start of the story.
Finally, rather than give Carol Danvers a traditional origin story, Captain Marvel will begin with her already empowered and serving on the Kree military team known as Starforce. That being said, eventually Carol will return to Earth with new questions about her past and identity, meaning that not only will we learn how she obtained her abilities, but perhaps our intrepid heroine is dealing with memory issues.
The Skrulls
The Skrulls were first introduced all the way back in Fantastic Four #2, released in January 1962, and while initially they were a primary foe for the Fantastic Four, their attempts to try and conquer the Earth have basically made them an enemy of every hero in the Marvel universe. Their war against the Kree in late 1970s-era Avengers comics famously stuck our planet right in the middle of their conflict, and the aliens have continued to pop up in all of the decades since. Given their shape-shifting abilities, they make for seriously scary, paranoia-inducing storytelling, and it's hard not to expect at least a taste of that in the Captain Marvel movie. At the very least, it probably explains why Carol had to fight that old lady during the train sequence seen in the trailer that topped this guide.
It's worth noting that the Skrulls' stance in the Marvel Cinematic Universe rights-wise is somewhat complicated. Similar to the situation involving the characters Quicksilver and Scarlet Witch, both Marvel Studios and 20th Century Fox have the rights to use the Skrulls in their respective comic book universes. The only thing that is off-limits for Marvel Studios is use of the Super-Skrull - who is a member of the Skrull species imbued with all of the powers of the Fantastic Four.
Nick Fury
Samuel L. Jackson's Nick Fury has been a key part of the Marvel Cinematic Universe for nearly a decade now, and fans will never forget how he introduced both Tony Stark and audiences to a larger universe unlike anything ever seen on the big screen before. Since the first Iron Man, he was featured in Iron Man 2, The Avengers, Captain America: The Winter Soldier, and Avengers: Age of Ultron. Fury finally returned in Avengers: Infinity War, although as mentioned earlier, his time on screen was brief.
As for how Nick Fury fits into Captain Marvel, the movie will be peeking in on him at a time in his life when he believes the best years of his career are behind him due to the Cold War wrapping up. Now a bureaucrat, Fury hasn't had any experience with superheroes or aliens, but that will change once he meets Carol Danvers. Whatever happens to him in the movie, two things are clear. One, there's a good chance we'll see how Fury lost his eye, and two, these events are going to set him on the path to becoming the man who will one day bring the Avengers together to protect humanity from unusual threats.
Just like has been done in the past on Ant-Man, Captain America: Civil War, Guardians of the Galaxy Vol. 2 and Ant-Man and the Wasp, Marvel is putting its digital magic to work to de-age Samuel L. Jackson in Captain Marvel by approximately 25 years. Only unlike those previous examples, which were done for brief flashbacks, this is the first time that a character is being de-aged for the whole movie.
Mar-Vell
As mentioned, Carol Danvers didn't become Ms. Marvel until 1977, and wasn't named Captain Marvel until 2012 -- but there was a Captain Marvel that preceded her. I'm referring to Mar-Vell, who was a Kree hero first introduced in the comics in 1967. In the character's origin story, he first came to Earth to spy on humanity on behalf of his people, but fell in love with us instead. Now he may finally make his live action debut in Captain Marvel, where he'd be played by Academy Award-nominee Jude Law.
Most audiences know Jude Law for his dramatic work, but he has dipped his toe into the blockbuster world -- coincidentally with another Marvel Cinematic Universe star. Going back to 2009 he has played the Dr. Watson to Robert Downey Jr.'s Sherlock Holmes in Guy Ritchie's series of movies, and those movies did give him the chance to kick a little ass. He's certainly proven himself one of the most talented actors around, so we're incredibly excited to see what he brings to Captain Marvel.
It is worth noting that as of right now, Marvel hasn't actually identified Jude Law as playing Mar-Vell. So far all that's been revealed about Law's character is that he's the leader of Starforce, is a devout Kree warrior and has taken a liking to Carol, prioritizing her over the team's other members. Law could still be playing the MCU's version of Mar-Vell, but that's not officially confirmed, and there's also been speculation that he might actually be playing Kree villain Yon-Rogg.
Agent Phil Coulson
This is not a drill, folks. After years of waiting, Clark Gregg is finally returning to the movie side of the Marvel Cinematic Universe, as Agent Phil Coulson has a supporting role to play in Captain Marvel. Fans will recall that the character was incredibly vital to the start of the franchise, appearing in Iron Man, Iron Man 2 and Thor before The Avengers, but he has been relegated to television ever since his big screen death. The events of Captain Marvel obviously won't deal with any of the Agents of S.H.I.E.L.D. aftermath for the brave hero (let's not forget that this is a period piece), but it's still very exciting.
As you probably expected, this will show him back when he was the "new guy" at the spy organization and not as "crusty and jaded." Remember when Coulson told Tony Stark and Pepper Potts in Iron Man that this wasn't his "first rodeo"? Well, who wants to place bets that whatever goes down in Captain Marvel will be the first time he considers himself to have swung the proverbial lasso? And just like Samuel L. Jackson, Clark Gregg will be put through Marvel's digital de-aging process.
Ronan The Accuser
Phil Coulson isn't the only dead Marvel character that is being brought back for Captain Marvel. Audiences saw Lee Pace's Ronan The Accuser die a pretty horrific death at the end of James Gunn's Guardians of the Galaxy -- disintegrated using the Power Infinity Stone -- but the first MCU title of 2019 will apparently let fans see what the angry Kree fanatic was up to 25-plus years ago.
It's pretty clear that Captain Marvel will be digging into the legendary forever war between the Kree and the Skrulls, and it's easy to imagine finding Ronan in a military position within that fight. Sure enough, Ronan will be serving on Starforce during the movie, although nothing else about how he fits into the movie has been revealed yet. Maybe whatever happens in Captain Marvel will pave the way for him to become the radical we saw in Guardians of the Galaxy.
Korath The Pursuer
We learned in Guardians of the Galaxy that Ronan The Accuser has a close association with Djimon Hounsou's Korath The Pursuer, and apparently that's a bond forged over many decades. We now know this because it looks like the two characters will be coming back together in the early 1990s, years before Ronan sent Korath to go acquire the Power Infinity Stone on Morag.
Djimon Hounsou's role in Captain Marvel was confirmed in the same Start of Production announcement that confirmed many of the parts noted in this feature, and like Ronan, he's on the Starforce team. Beyond that, nothing else has been said about Korath's role in Captain Marvel, but one would imagine that his experience will directly or indirectly lead to why he ultimately becomes one of Ronan's subordinates.
Ben Mendelsohn
Ben Mendelsohn seems to be carving out a niche for himself as a classic sci-fi villain figure in pop culture. It started with his nefarious role as Orson Krennic in Gareth Edwards' Rogue One: A Star Wars Story, but then he was cast as central antagonist Nolan Sorrento in Steven Spielberg's Ready Player One. Now he's ready to create a trilogy of sorts with his first Marvel Cinematic Universe appearance, as he will be playing the big bad in Captain Marvel: Talos, the Skrull leading the infiltration of Earth.
The only other thing that's been revealed about Talos in Captain Marvel so far is that he's working undercover as Nick Fury's boss within S.H.I.E.L.D. That's interesting, but then let's also remember that line Fury gave Steve Rogers in Captain America: The Winter Soldier: "The last time I trusted someone I lost an eye." Since Fury's superior is actually a Skrull, then there's a decent chance that Talos is the one responsible for ruining Fury's 20/20 vision. That scarring around Fury's blind eye could certainly come from an alien energy weapon.
The Rest Of The Supporting Cast
Thus far we've covered the principal stars of Captain Marvel, but there is a full line-up of other actors who have been officially announced as being part of the project. Now we're turning our heads to the rest of the ensemble, who are listed below:
Lashana Lynch (Brotherhood, Fast Girls)
Gemma Chan (Humans, Fantastic Beasts and Where to Find Them)
Algenis Perez Soto (Sambá, Sugar)
Rune Temte (Eddie The Eagle, The Last Kingdom)
McKenna Grace (Gifted, I, Tonya)
Annette Bening (American Beauty, The Kids Are All Right)
Robert Kazinsky (True Blood, Warcraft)
Vik Sahay (Roxy Hunter, Chuck)
Colin Ford (We Bought a Zoo, Under the Dome)
Chuku Modu (Game of Thrones, The Good Doctor)
Let's start off with the first five actors on this list. Arguably the most important of the bunch is Lashana Lynch's Maria Rambeau, Carol Danvers' best friend and fellow Air Force pilot who flies under the call sign "Photon." Maria is a single mother taking care of her daughter, Monica, someone who longtime Marvel Comics fans will recognize. Monica will be a young girl in Captain Marvel, but it's possible that this movie is laying the groundwork for her to be a superhero in the present day MCU.
Then we have the other members of Starforce: Gemma Chan as Minn-Erva, Algenis Perez Soto as Att-Lass and Rune Temte as Bron-Char. No specific details for Att-Lass and Bron-Char have been revealed yet, but Minn-Erva is said to be a Kree sniper who was the star of the group before Carol Danvers joined and is now "slightly threatened" by the heroine. Given Minn-Erva's villainous past in the comics, perhaps her movie counterpart will follow suit, giving Carol some trouble on the side while the Kree-Skrull conflict unfolds.
Finally, McKenna Grace is confirmed to be playing young Carol Danvers, meaning we will get a peek into her childhood during in the movie. As for the latter five actors, while Annette Bening was rumored to be playing Carol's mother, from the looks of her in the above trailer she appears to be portraying another Kree. Aside from her, no one else's character has been identified yet, so we'll have to wait and see how they fit into the proceedings.
As we mentioned previously, Captain Marvel is just a few weeks away from opening, so be sure to keep your eyes on this guide for the latest updates!
Your Daily Blend of Entertainment News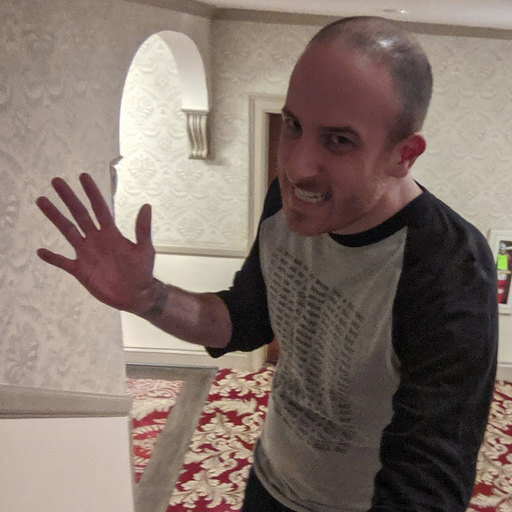 Assistant Managing Editor
NJ native who calls LA home and lives in a Dreamatorium. A decade-plus CinemaBlend veteran who is endlessly enthusiastic about the career he's dreamt of since seventh grade.