The Golden Globe Nominations Wonder Woman Deserved But Didn't Get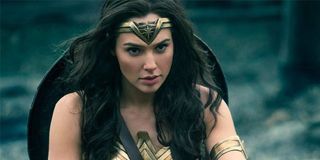 The Golden Globe nominations were officially announced this morning; in fact, you can check out CinemaBlend's coverage of the movie nominations, we well as the TV nominations. While many of the movies we expected to see received nods from the Hollywood Foreign Press Association, there were also more than a few major surprises. Chief among these surprises was the complete omission of Wonder Woman from any category.
With a massive box office haul and an impressive 92% rating on Rotten Tomatoes, it's clear that there's a lot of love for Patty Jenkins' DCEU adventure. Alas, it still went overlooked by the Hollywood Foreign Press when there were a few clear categories in which it could contend. Those are the categories that we intend to dive into, so let's take a look at Wonder Woman and talk out the Golden Globe nominations that it should've received.
Best Actor in a Motion Picture, Drama - Chris Pine
There's a strong case to be made that Chris Pine's Steve Trevor is just as much of the main character in Wonder Woman as Gal Gadot's Diana Prince, and much of that has to do with Pine's performance as the American soldier/spy. Efficiently carrying much of the film's emotional weight squarely on his shoulders, Pine delivers a performance that is not only funny and chock full of charisma, but also deeply affecting in the way that we see him evolve over the course of his time with Diana. His final on-screen moments are some of the most heartwrenching that we have ever seen in a DC movie (DCEU or otherwise), and the decision to leave him out of the Golden Globe nominations feels like a significant omission.
Best Supporting Actress in a Motion Picture - Robin Wright
Robin Wright's Antiope doesn't get much screen time in Wonder Woman; in fact, her death very clearly marks the end of the film's first act. That said, out of anyone present in the film's supporting cast, she arguably deserves the most recognition for completely enveloping herself in her character and delivering a truly compelling performance. Wright transformed herself to become the Amazonian General by putting on a considerable amount of muscle and donning a no-nonsense warrior persona that seems to represent a far cry from her days as Princess Buttercup. Even with her reduced role in Wonder Woman, she still managed to knock her scenes out of the park, and her work on Diana Prince's solo movie could easily stand alongside the other women currently nominated in the supporting category.
Best Actress in a Motion Picture, Drama - Gal Gadot
Gal Gadot is a wholly unique actress in the current Hollywood landscape. She is one of the best physical actresses working today, and Wonder Woman definitively showed what the Israeli actress could do in ways that we never got to see during the events of Zack Snyder's Batman v Superman: Dawn of Justice or even this year's Justice League. Even without lengthy monologues or scene-stealing one-liners, Gadot carried Wonder Woman with her raw, primal physicality, and that is something that undoubtedly deserved to be acknowledged by the Golden Globes this year. DC has something special with Gadot, and that's something worth directly pointing out.
Best Original Score - Rupert Gregson Williams
The comic book movies that we have seen debut in recent years have often been accused of featuring lackluster soundtracks that don't necessarily leave major impressions on audiences. In fact, this is one of the most common criticisms that we see folks in the film community level at entries in the Marvel Cinematic Universe. That's why Wonder Woman stands out among the rest; Rupert Gregson-Williams' score for the film is one of the most memorable of 2017 and easily one of the best. Taking snippets of the theme heard during the Doomsday fight in Batman v Superman, Wonder Woman's score feels like a perfect accompaniment to the exotic and mythical persona of the Amazonian hero. The DCEU has struggled with clear-cut themes for its heroes, but Wonder Woman's score is destined to become a classic.
Best Picture, Drama
Superhero movies and summer blockbusters have historically struggled to make major impressions during awards season (with a few exceptions here and there over the years), but Wonder Woman stands out as a particularly worthy movie that should've been acknowledged as one of the best dramas of the year. A genuinely compelling war movie with quite a bit to say about gender roles and the nature of good and evil (not to mention some solid laughs along the way), the film is a full-bodied emotional experience that delivers some of the best emotional catharsis of the year and shows that there's still plenty of gas left in the tank of the comic book movie genre. If you also take its cultural significance for female superheroes into consideration, then it seems like a glaring omission from the Golden Globes.
Best Director - Patty Jenkins
Last, but certainly not least, we come to the fact that Patty Jenkins arguably deserves to stand alongside the other nominated directors at the 2018 Golden Globes ceremony. From a pure filmmaking standpoint, Wonder Woman is one of the most well-paced, tightly-scripted, and well-handled blockbusters of the year, with little excess fat on its bones and some genuinely standout set pieces to get audiences cheering. Beyond that, it also needs to be said that the fact that Patty Jenkins is the first female director to achieve this level of success with a blockbuster property is also something that needs to be acknowledged when having this discussion. She's a culturally significant figure whose work on Wonder Woman more than earned her a spot at this year's awards season.
This poll is no longer available.
Your Daily Blend of Entertainment News
Originally from Connecticut, Conner grew up in San Diego and graduated from Chapman University in 2014. He now lives in Los Angeles working in and around the entertainment industry and can mostly be found binging horror movies and chugging coffee.
Your Daily Blend of Entertainment News
Thank you for signing up to CinemaBlend. You will receive a verification email shortly.
There was a problem. Please refresh the page and try again.