Den Of Thieves Wants To Be Compared To Some Truly Classic Crime Thrillers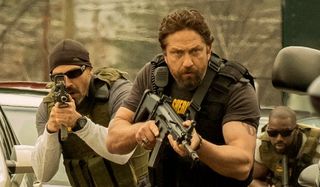 Because Den Of Thieves is a crime heist thriller set in Los Angeles, it immediately is going to be compared to other films of such ilk, some of which are peerless. Let's not forget that Michael Mann with Heat, William Friedkin with To Live And Die In L.A., and David Ayer with End Of Watch are just three examples of directors who have excelled with L.A.-based crime films. Can Den of Thieves keep up?
Last year, we had the opportunity to visit the set of Den Of Thieves, where its writer and director Christian Gudegast admitted that rather than being intimidated by these films, he has drawn inspiration from them. In fact, Gudegast has especially used Heat as a jumping off point for Den Of Thieves, but insists his film goes even further. When we asked which films were a reference point for Den Of Thieves Gudegast responded:
Gudegast then went on to list several other key films and filmmakers that have influenced the style, tone, and action in Den Of Thieves.
Christian Gudegast was quick to explain how Den Of Thieves will differ to other Los Angeles based crime films, though.
Later on in the day we also had the chance to speak to Den of Thieves star Gerard Butler, and he listed some more films that he thinks the film took inspiration from. The Scot also explained why Gene Hackman was such a big influence on his character Big Nick, too.
You can try to spot just how much Den Of Thieves has been inspired by the above by watching its trailer below.
Den Of Thieves will be released on January 19.
Your Daily Blend of Entertainment News