Watch How Blade Runner 2049 Brought A Classic Blade Runner Character To Life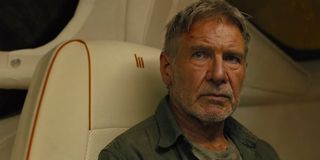 Warning: MASSIVE spoilers ahead for Blade Runner 2049!
There are almost too many amazing visual effects to count in Blade Runner 2049. Even with its low box office, the film feels like a dream come true for many science-fiction fans, and one of the most intriguing effects in the entire movie was the CGI resurrection of Sean Young's Rachael. The fan-favorite character (or rather, a replicant knockoff of her) makes an uncanny return towards the end of the movie in an attempt to throw Rick Deckard (Harrison Ford) off-balance, and a new video has surfaced online showing how they pulled it off. Check out the video, below!
We knew that quite a bit of work went into the visual effects seen in Blade Runner 2049, but this video shines a light on how much effort Denis Villeneuve's crew put into those minor details. To bring Rachael to life, the team went through old frames of the original Blade Runner, created a digital clone (or a replicant?) of her, and then worked to insert her seamlessly back into the original scenes. Once that technique had been perfected, the crew then brought in a double to act in the scene alongside Harrison Ford, and they incorporated the model into the Blade Runner 2049 scene while accommodating for light and movement.
In the end, they wound up with a digital copy of a human that's arguably as close to photo-realistic as anything that we have ever seen from a major Hollywood production. While this video does a fantastic job of showing how the team behind Blade Runner 2049 resurrected Rachael for that heart-wrenching scene, the trick to seeing the strength of the effect lies in viewing the original and the new Rachael side-by-side. Check it out below.
That's some of the most impressive facial visual effects that we have ever seen. They pretty much completely captured the look of youthful Sean Young -- even if "her eyes were green."
The strength of this VFX work extends far beyond merely making a cool scene in the most recent Blade Runner 2049. Although it may seem hyperbolic, the continuing perfection of this technology could fundamentally change the way that we make movies. We spoke at length about how the CGI Grand Moff Tarkin in Rogue One: A Star Wars Story was a fantastic (albeit still somewhat flawed) step forward for the technology. Only one year later, and it looks like some significant leaps have been made.
Blade Runner 2049 is currently available on Digital HD, and the Blu-ray edition of the film will hit shelves later this month on January 16. Looking ahead to the next year, check out our 2018 movie premiere guide.
Your Daily Blend of Entertainment News
Originally from Connecticut, Conner grew up in San Diego and graduated from Chapman University in 2014. He now lives in Los Angeles working in and around the entertainment industry and can mostly be found binging horror movies and chugging coffee.