Did Mark Hamill Actually Shoot A Scene With Admiral Holdo In Star Wars: The Last Jedi?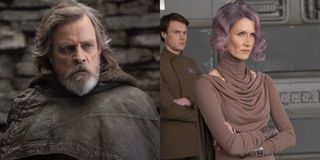 Warning: SPOILERS for Star Wars: The Last Jedi are ahead!
Following his brief cameo at the end of The Force Awakens, Mark Hamill finally made his full return to the Star Wars franchise last month in The Last Jedi. However, while Luke Skywalker did have a major role in the story, most of his time was spent interacting with Rey on Ahch-To, and the only reason he was able to "see" Leia and Kylo Ren later on was because he used the Force to project himself from Crait, which ultimately exhausted him to death. However, if one of Hamill's recent tweets is to be believed, there may be a cut scene from The Last Jedi where Luke had some face time with Vice Admiral Amilyn Holdo.
While congratulating Laura Dern for winning a Golden Globe for her performance on HBO's Big Little Lies, Mark Hamill casually mentioned how he hopes that the Star Wars: The Last Jedi home video release includes the deleted scene where the two of them were together. Hamill is quite the joker (how appropriate) on Twitter, so it's hard to tell if he's kidding or if there actually is a scene where Luke Skywalker and Amilyn Holdo crossed paths. Hamill and Dern are both talented actors, so no doubt there'd be a lot of people who would welcome them acting in a scene together. Alas, until The Last Jedi is available on Blu-ray, DVD and Digital HD, we don't know for sure if such a deleted scene exists.
What makes Mark Hamill's statement so curious is that the timing for a Luke Skywalker/Amilyn Holdo interaction during The Last Jedi doesn't quite work. By the time Luke had Force projected himself on Crait, Holdo had already died. Holdo remained behind on The Resistance's last cruiser after it had been evacuated, but when The First Order started picking off transports one by one, Holdo turned on the cruiser's hyperdrive and jumped to light speed straight into the path of Supreme Leader Snoke's ship, The Supremacy. Thanks to Holdo's sacrifice, the Dreadnought was badly damaged, as were several surrounding First Order ships, and Leia Organa, Poe Dameron and the remaining Resistance operatives were able to reach Crait.
Given how The Last Jedi used flashbacks to depict why Ben Solo turned to the dark side, it's certainly possible that a similar flashback was filmed where Luke Skywalker and Amilyn Holdo were interacting before Luke went into exile. But as mentioned earlier, Hamill has a habit of joking around on social media, so while The Last Jedi is expected to have plenty of deleted scenes, don't be shocked if Luke chatting with Holdo isn't one of them.
Star Wars: The Last Jedi is still playing in theaters, and Episode IX will conclude this trilogy on December 20, 2019. In the meantime, you can browse through our 2018 premiere guide to see what movies will be released this year.
Connoisseur of Marvel, DC, Star Wars, John Wick, MonsterVerse and Doctor Who lore. He's aware he looks like Harry Potter and Clark Kent.
Your Daily Blend of Entertainment News
Thank you for signing up to CinemaBlend. You will receive a verification email shortly.
There was a problem. Please refresh the page and try again.