Someone Recut The Solo: A Star Wars Story Trailer With The Beastie Boys And It's Great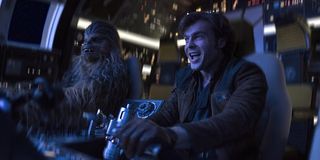 The art of the trailer is a fascinating one. Sometimes a good trailer can sell us on a bad movie, and other times a good movie can have a bad trailer. One surefire way to deliver a good trailer is to cut it to a killer song. Employing this strategy, one industrious editor took it upon himself to spice up the Solo: A Star Wars Story trailer with the Beastie Boys classic, "Sabotage." Frankly, it's pretty great; maybe even better than the original. Take a look (and listen) below.
Man, that song was practically built for trailers and movies. The Beastie Boys could have been one-hit wonders with that and probably lived off the licensing fees for the amount of play "Sabotage" gets in movies and TV. I can't think of a better song to pair with the galaxy's most lovable scoundrel. Given the characters in this movie and the story, Solo has the potential to simply have a lot more fun than other Star Wars movies, and that's what this recut trailer is selling. This recut trailer is simply a lot of fun. The use of "Sabotage" here is just phenomenal, teasing the action-packed heist film full of colorful characters that we're hoping this movie will be. This also provides a fun little connection to the Star Trek universe, as "Sabotage" actually served a role in the plot of Star Trek: Beyond.
This recut trailer from the War Starts at Midnight Podcast is arguably more fun than the Super Bowl spot or the first full trailer for the film. If it seems like "Sabotage" fits perfectly with the trailer, that's because the editor, Chris Galegar, didn't simply drop in the song over the existing audio track, he also recut the video in the trailer to fit with the song. So "Sabotage" really carries us on a galactic romp as we go on a fast-paced and frenzied adventure, and likely the Kessel Run, with Han Solo and his band of rogues. The whole trailer really moves at a decent clip to the song, and if we're lucky, such a cool trailer couldn't possibly have been produced from anything less than a stellar movie.
Of course, this isn't the first time a fan has added some Beastie Boys magic to a Star Wars trailer. A fan also recut the Rogue One trailer to "Sabotage," which produced similarly awesome effect. At some point, maybe Disney and Lucasfilm will just take the cue, beat fans to the punch and use "Sabotage" from the beginning. It's not just fans that love both Star Wars and the Beastie Boys, though. In The Force Awakens, there is a Resistance pilot of the Abednedo species by the name of Ello Nasty. This is a tribute to The Beastie Boys and their 1998 album Hello Nasty. So the Beastie Boys' influence extends across space and time, and perhaps if you're in a dingy cantina that doubles as a hive of scum and villainy, you might just hear something that sounds like "Sabotage" playing from the jukebox.
Solo: A Star Wars Story hits theaters on May 25th. For all the biggest movies hitting theaters this year, check out our release guide.
Nick grew up in Maryland has degrees in Film Studies and Communications. His life goal is to walk the earth, meet people and get into adventures. He's also still looking for The Adventures of Pete and Pete season 3 on DVD if anyone has a lead.
Your Daily Blend of Entertainment News
Thank you for signing up to CinemaBlend. You will receive a verification email shortly.
There was a problem. Please refresh the page and try again.