Why The New Flash Directors Are The Perfect Choice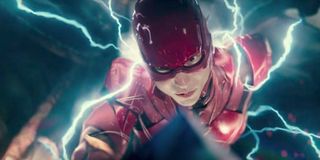 After a bumpy start, the DCEU is working to right the course and push ahead with a new slate of films. While Warner Bros. is keeping a lot of these upcoming projects and releases under wraps, we know the studio is hard at work getting Aquaman, Shazam!, Wonder Woman 2 and Flashpoint ready the big screen. In the case of the latter, it's been a long road despite the title character's tendency to make long roads irrelevant. The movie was pushed back a few times and lost two directors, but now Warner has signed on the duo of John Francis Daley and Jonathan Goldstein, which might be the best duo to see the Scarlet Speedster to the finish line.
Like many blockbuster directors before them, John Francis Daley and Jonathan Goldstein do not have much experience with actual blockbusters. They primarily write comedy movies, haven written Horrible Bosses, The Incredible Burt Wonderstone, and Cloudy with a Chance of Meatballs 2. The duo only just directed their second feature film, the surprisingly good action-comedy, Game Night. With only two features under their belts, it's understandable that they seem a worrisome choice, but it's Game Night that gives this writer confidence that Daley and Goldstein are going to be just fine with The Flash.
Warner Bros. has clearly had a hard time figuring out exactly what it wants from a Flash movie. Originally, Seth Grahame-Smith was set direct but that partnership ended over "creative differences," though some reports claimed that Warner was ultimately gun shy about putting The Flash into the hands of a first-time director. Then the studio brought on Rick Famuyiwa, an indie director, to bring some auteur to the blockbuster but that, too, was soon shattered over those dreaded "creative differences."
It certainly didn't help matters that The Flash movie was then revealed to be adapting Flashpoint, a story about the Flash resetting the entire DC Universe. That's a huge story for just the first Flash movie, and it's not exactly a big show of faith for the state of the DCEU.
All the more interesting then that the directors ultimately chosen for a potentially universe-rebooting blockbuster are more experienced with low-budget comedies. A strange pick on the surface, but it says a lot about the relationship the two have with Warner that the studio feels it is the best pick for The Flash. It speaks to a level of trust and I'd be surprised if there were any differences of the creative sort between studio and director this time around.
So, Warner Bros. feels confident in its pick, but what about us, the common folk? What reason do we have to support John Francis Daley and Jonathan Goldstein? Exhibit A: Game Night.
Starring Jason Bateman and Rachel McAdams, Game Night follows a group of couples who meet every week for their safe, boring game night, but things get turned up when a murder mystery becomes very real, and the couples aren't sure what's real and what's a game. It's an interesting idea, but there's really anything about it that immediately sticks out from all the other studio hybrid comedies. It's easy to initially lump Game Night in with these lazy and predictable comedies (think Daddy's Home). The difference with Game Night, though, is that it has John Francis Daley and Jonathan Goldstein.
There is way more creativity going on in Game Night than the trailers would lead you to believe. It's full of these tiny flourishes and smart uses of the frame. One scene has a particular character seated so his head is fitted perfectly between two guns hanging in the background, for example. There's also a great opening logo cinematic that involves game pieces that helps set the mood (I'm a sucker for opening logos), as well as a brilliant use of model figurines to help ease into transitions. It's just a lot more effort and thought than you typically see in a studio comedy. It's not Edgar Wright-levels, but it's enough.
It should come as no surprise that the duo is able to wrangle the laughs with genuinely funny jokes, but what's equally important to The Flash is that the action is well shot. I won't spoil the specifics, but there's a fight scene in the first 20-30 minutes that is really impressively shot and choreographed. The fight seamlessly moves from room to room and gets surprisingly serious. The movie lives in a tough tonal spot between silly comedy and serious action, and Daley and Goldstein do a really nice job of balancing that. I don't mind saying it's not a perfect movie (there are some character plotlines that go nowhere), but it's an entertaining one.
John Francis Daley and Jonathan Goldstein have proven they've got the visual chops to handle the extremely visual action of Flashpoint, but Game Night isn't the only movie that the directors have in their filmography that gives them some edge. They're also one of the writing teams that contributed to the screenplay of Spider-Man: Homecoming. That movie had a lot of different writers, so it's tough to nail down what their exact contribution was, but they've still got that superhero experience. It also helps that with his humor and youth, The Flash is basically the Spider-Man of the DCEU. The two are already used to working with a fun superhero, so it's not some tragic tonal shift for them.
Obviously, it's still very early in the process, and though John Francis Daley and Jonathan Goldstein have signed a deal, there's always a chance they could end up splitting from Flashpoint. That would be a shame because now I'm more curious than ever to see what the two of them can do with the Scarlet Speedster.
Matt has lived in New Jersey his entire life, but commutes every day to New York City. He graduated from Rowan University and loves Marvel, Nintendo, and going on long hikes and then greatly wishing he was back indoors. Matt has been covering the entertainment industry for over two years and will fight to his dying breath that Hulk and Black Widow make a good couple.