This Rotten Week: Predicting Tully, Bad Samaritan, And Overboard Reviews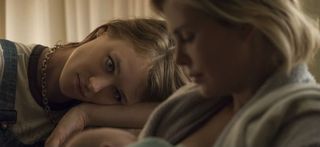 One week removed from Avengers: Infinity War, and we've got three flicks on tap - though its worth noting that major blockbusters are staying as far away from the Marvel blockbuster as they can. There's a motherhood drama, a thriller, a comedy remake all coming your way. Get ready for Tully, Bad Samaritan, and Overboard.
Just remember, I'm not reviewing these movies, but rather predicting where they'll end up on the Tomatometer. Let's take a look at This Rotten Week has to offer.
As the father of a newborn, I can say there are at least five scenes in the trailer for Tully alone that look dead-on accurate in terms of depicting the pivotal and discombobulating time following a birth. I can only imagine the rest of the film is a motherhood tour-de-force with all of the good, bad and ugly that can come along with it.
Tully is already scoring well on the Tomatometer, sitting at 89% with 18 reviews posted. Critics are praising it as an honest and somewhat unforgiving look at what it means to raise children in the modern era. It makes sense this movie would have a strong showing. Director Jason Reitman (Up in the Air - 91%) and writer Diablo Cody (Juno - 94%) last successfully collaborated with Young Adult (81% - also starring Charlize Theron). This latest appears gritty and likely appeals to parents across the spectrum. It will probably fall some over the course of the week, but I suspect it finishes in this upper tier.
Bad Samaritan seems like one of those movies where a person came up with the title first and the movie premise second. That being said, I have to say this flick looks at least moderately suspenseful, and has an interesting story. A small-time thief stumbles upon a kidnapping situation, and ends up getting terrorized by his original mark (an always incredibly creepy looking David Tennant). The film appears dark, and might be able to avoid some of your standard suspense/horror cliches along the way.
Sadly, director Dean Devlin's filmography doesn't give us much to hope for. His only other widely-released work as a director was the garbage Geostorm (12%). I suspect this one rates better at least, and does have viewers a little on the edge of their respective seats. I'm prepared to be way off on this prediction (if anything, I'm way high on the number), but here's to holding out hope the filmmakers can keep it from devolving into a predictable mess.
Was anyone pining for a remake of Overboard? Even my wife, who is one of the world's biggest fans of the original Overboard (it's a small group) took one look at this and scoffed. At least this one is slightly different thanks to a gender swap, with Eugenio Derbez playing the arrogant rich guy with amnesia, and Anna Faris starring as the down-on-her-luck employee who runs a long con on him.
Honestly, I couldn't even make it all the way through the trailer. It was nearly unwatchable, with barely a glint of anything funny. Overboard is analready silly premise, and it looks like it's executed poorly here, with almost nothing redeeming in its previews. It looks completely awful. This is director Rob Greenberg's first big screen directorial gig, and I can't imagine it ends well. We are getting a movie that looks lazy all the way around. I rarely go this low with a prediction, but I'd be shocked if it scores even in the teens.
It wasn't tough to guess correctly on Avengers: Infinity War (Predicted: 90% Actual: 84%) considering some of the background we already have on the Marvel Cinematic Universe. They've been killing with critics basically since the get-go, and this latest is right in line with the rest of the franchise. Eric Eisenberg gave the movie 4.5 stars in his review, calling it, "an exceptional achievement that somehow leaves you both fully satisfied and desperate for more." It's high praise for a movie with such insane expectations, but once again the MCU folks pulled it off. This is the 19th film in the universe and they're averaging 84% across the board. That's pretty unreal for a set of comic book films, and a testament to their vision and execution.
Next time around we've got Breaking In and Life of the Party. It's gonna be a Rotten Week!
Doug began writing for CinemaBlend back when Terminator: The Sarah Connor Chronicles actually existed. Since then he's been writing This Rotten Week, predicting RottenTomatoes scores for movies you don't even remember for the better part of a decade. He can be found re-watching The Office for the infinity time.
Your Daily Blend of Entertainment News
Thank you for signing up to CinemaBlend. You will receive a verification email shortly.
There was a problem. Please refresh the page and try again.