Why The Dark Universe Deserves A Second Chance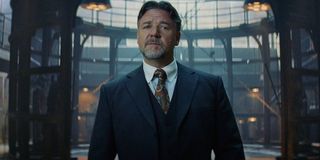 A little over a year ago, Universal's Dark Universe was promising to kick off a franchise of horror action that would resurrect the studio's dormant Universal Monsters brand. With such iconic creatures as Dracula, The Wolf Man, and The Invisible Man, the studio certainly had enough material to weave into a singular world of supernatural terror. Unfortunately, when the box office grosses for last June's The Mummy came in, the results were less than stellar, seeming to have put Universal off of pursuing the rest of its already cast schedule. An action which, if you ask me, is something rather premature, as the Dark Universe deserves to live once again, albeit under a particular set of circumstances.
The fact is, killing the Dark Universe after The Mummy's failure to scare up a blockbuster is premature at best, and downright foolish in the worst circumstances. Yes, the film didn't do that well, and there were plenty of stories surrounding the production that referred to Tom Cruise taking over the production's fate. But that's the lesson that needed to be learned in order to get things moving. Ask anyone who's crafted a cinematic universe, and they'll tell you that it takes time in those early years to find your voice. Quitting after one such mistake doesn't allow for the same refinement of the storytelling voice that occurred in the Marvel Cinematic Universe to happen in the Universal Dark Universe.
Canceling the series outright is a waste of the time and energy that's already been invested in drawing such solid names as Russell Crowe, Javier Bardem, and Angelina Jolie into the Dark Universe. Not to mention, in the case of Jolie and Bardem, teaming them with director and creature feature aficionado Bill Condon to create a new film in the Frankenstein canon feels like the match made in monster heaven. The difference between this hypothetical Bride of Frankenstein film and The Mummy is the fact that Condon's picture would be a closer homage and modernization of the classic Universal Monsters-era films, while The Mummy was trying to be a four-quadrant action adventure film that'd give Marvel a run for their money. These films are never going to do that. In fact, the Universal Dark Universe should get itself used to occupying the same margins its monsters thrive in outside of the norm.
In all honesty, it probably would have been a better idea to start things off with the story of Prodigium, the organization that Dr. Jekyll oversaw in the name of paranormal research. Telling his story first would have given the organization its backstory, and laid a perfect road map down for the rest of the Dark Universe to follow. Meanwhile, the story of The Mummy could have either occurred after this backstory was laid down, or as the most recent cast of Prodigium's storied history, but either way it should have never started things off. Come to think of it, this approach puts the true purpose of the Dark Universe into sharp focus.
The aim for the Universal Dark Universe shouldn't be to compete / usurp the blockbuster crown. On the contrary, this should be the lean and mean box office machine that films like those in the horror genre are. With horror being a quite lucrative field, both financially and creatively, Universal could have a consistently successful series of films if it refocuses its budgetary efforts to a more limited scope. This would force those in charge of the future Dark Universe films to be creative with their spending, which only sharpens the talents involved if they're used to such demands. For a studio that excels at cranking out horror hits through producer Jason Blum's Blumhouse shingle, it shouldn't be hard to attract that type of talent to come work in a bigger sandbox for Universal Pictures
Which brings us to the final step in creating the Universal Dark Universe playbook, the one that solidifies why it needs a second chance: the right person needs to be installed to correct the course of this dark and twisted antidote to the big budget summer blockbuster. While he's got deals with both Fox Searchlight and Dreamworks Animation, Guillermo del Toro would be the best candidate for creating a vision for this property, as he is another person that cares about the creatures of the night, and knows what sort of talent to recruit to bring them to life. While he doesn't have to be the person that does it, having a del Toro ruled Dark Universe would be something so spectacular, it'd be impossible to ignore. With his clout, and the Dark Universe's ability to draw morbid curiosity, thanks to its controversial past, this could turn into a project that could break away past its checkered past.
The film market is so homogeneous at this point that a new prospect could do some serious cleaning up, provided said series was smartly crafted, properly budgeted, and run by an overseer with a clear vision and a love of monsters. All that's missing is smart marketing and proper scheduling, and the Universal Dark Universe could provide an alternative to the standard blockbuster template that's been offered season after season. Most importantly, the greatest reason that Universal shouldn't give up on its Dark Universe is that the solution is so simple that they can adjust their execution to a "less is more" approach and get back on the horse without too much effort in re-calibration. Should they take these suggestions to heart, and start restructuring their house at once, there could be a beautifully dark future for the Dark Universe. A future where the frightening truth shines brighter than it ever has on the Universal lot.
This poll is no longer available.
Your Daily Blend of Entertainment News
Senior Movies Contributor
CinemaBlend's James Bond (expert). Also versed in Large Scale Aggressors, time travel, and Guillermo del Toro. He fights for The User.
Your Daily Blend of Entertainment News
Thank you for signing up to CinemaBlend. You will receive a verification email shortly.
There was a problem. Please refresh the page and try again.