What Tom Cruise Reportedly Made The Studio Change In The Mummy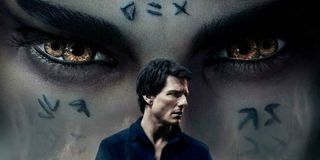 I do not think it will shock you to learn that The Dark Universe is not off to a fantastic start. Alex Kurtzman's The Mummy has become widely panned by critics, and the film's domestic box office performance officially qualifies it as a flop. Quite a bit of finger pointing has taken place in the wake of the movie's hard landing, and new rumors have suggested that Tom Cruise may have pushed some significant changes on the film during its development and production. Specifically, he may have forced the studio to give him a substantially bigger part in the project to make him the focal point of the story.
New rumors associated with The Mummy have begun to shed some light into how the film may have potentially struggled behind the scenes during its development. Specifically, these reports suggest that Tom Cruise had the film significantly altered to place considerably more emphasis on his character, Nick Morton, as the hero of the story. Descriptions of The Mummy's set provided by individual crew members have been described as "before Tom" and "after Tom," citing the possibility that the crew simply went along with the Hollywood legend's decision to micromanage once he arrived at the production. Earlier versions of the film apparently carved out an equal amount of screen time to Cruise and Sofia Boutella, but Cruise may have convinced the studio to create a much clearer sense of who the movie actually belonged to in the final cut.
Moreover, the decision to have Tom Cruise's character become possessed apparently also stemmed from Cruise himself, who felt that it offered a more dramatic arc for Morton. Between all of these issues, the report suggests that Universal was not necessarily happy with the decision, but ultimately acquiesced and granted Tom Cruise his control over the finished product.
Upon learning of this report from Variety, I am not entirely sure how convinced I am by it. While there's certainly a case one can make that Tom Cruise possibly exerted "excessive control" over the project, there's another side to the argument, in which Alex Kurtzman's inexperience as a blockbuster director may have factored into the film's issues. This doesn't rule out the possibility that Tom Cruise may have possibly taken the reins on the movie's production, but it frames it in a way that makes his decision to do so considerably more understandable in the long run.
With both of those possible angles considered, this becomes a difficult issue on which to form a clear opinion. The Mummy clearly doesn't feel like the movie that Universal set out to make, but we may never completely know what happened. All we can really do is wait and see what happens with future entries in The Dark Universe franchise.
The Mummy is currently in theaters, and if you have not already, make sure to take a glance at our movie premiere schedule to keep yourself up to date on all of 2017's most highly anticipated theatrical releases!
Originally from Connecticut, Conner grew up in San Diego and graduated from Chapman University in 2014. He now lives in Los Angeles working in and around the entertainment industry and can mostly be found binging horror movies and chugging coffee.
Your Daily Blend of Entertainment News
Thank you for signing up to CinemaBlend. You will receive a verification email shortly.
There was a problem. Please refresh the page and try again.