To 3D Or Not To 3D: Buy The Right Hotel Transylvania 3: Summer Vacation Ticket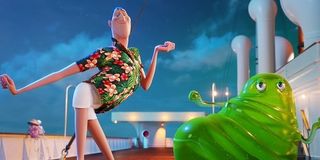 After two trips to the titular location, Adam Sandler's Hotel Transylvania franchise is ready to set foot outside of the grounds and onto the cruise ship that Hotel Transylvania 3: Summer Vacation calls home! And what would the hit children's franchise be without the opportunity to enjoy the film in the third dimension? So just as your hypothetical kids will be asking if they can go see the movie, you're probably asking yourself that all too familiar question: to 3D or not to 3D?
Like clockwork, that's where we come in; to help provide the answer to that question, thanks to our heightened 3D senses! If you want to know how much we enjoyed Hotel Transylvania 3 as a film experience, you can head on over to our official review and read our evaluation. But here and now, it's capes down and fangs out, as we sink our gummy vampire teeth into Hotel Transylvania 3's third dimensional prowess.
Between Genndy Tartakovsky's unique animation style and the manic energy of the franchise's first two entries, there's no reason not to bring Hotel Transylvania 3: Summer Vacation into the third dimensional realm. 3D is a tradition that's always served this series well, so it would have been weirder to skip the treatment this time out instead of upholding tradition.
Hotel Transylvania 3 is one of the most impressive 3D presentations I've seen this year, and it's because of the attention to detail paid throughout all of the standard fields we measure in a 3D film. What's most impressive is the fact that this extremely colorful film taking place at night, in various supernatural locations and on the water, is not mired by the typical problems with brightness that a third dimensional enhancement would normally experience. This film relishes in its 3D nature and isn't afraid to show it.
A Looney Tunes style sensibility permeates Hotel Transylvania 3: Summer Vacation, and as such there are a lot of sight gags to be had in the film's running time. While many cartoons can claim such visual flare, not all of them can say that they truly take advantage of the 3D medium in using such tricks. Everything from witches on broomsticks to tentacled appendages pops off of the screen, giving the audience an eyeful at any given moment in the film's proceedings. In particular, Ericka Van Helsing's various methods of attempting to hunt Dracula provide some neat visual tricks for all to enjoy.
As much as audiences can be wowed by the 3D effects coming off of the screen, the ones that add depth to the picture are just as important and impressive. Hotel Transylvania 3 has just as much going on in the depths of its picture as it does with what jumps into your face. Hallways and lobbies are practically cavernous, and scenes with crowds of monsters manage to keep characters spatially separated from each other, and their backgrounds. Even something as simple as Dracula dancing to "24k Magic" shows off how deep this picture is drawn.
Probably the most impressive feature of the 3D presentation for Hotel Transylvania 3: Summer Vacation is the fact that it pulls off stunning brightness behind the typical dimness of 3D glasses. Again, this movie takes place in a world of shadowy beings, with a lot of dark colors and nighttime scenes that take place with serious hues of every color you can think of. And yet, the brightness, a factor that sometimes gets hosed by how theaters calibrate their projectors, manages to shine through in beautiful detail.
If you take your glasses off during a 3D movie, you'll notice the trademark blur that accompanies the images being displayed. That blur usually indicates how much the image is manipulated to turn two 2D images into one 3D whole. Hotel Transylvania 3 matches its visual prowess with the blurry work going on behind the lenses, with a healthy level of blur on screen throughout. Even closer-focused scenes with the characters of the film have a light level of blur that helps the entire project standing out in the world of 3D animation.
Despite its ambitious presentation, Hotel Transylvania 3 does have one tiny flaw: a couple of its more up-close and personal 3D effects wonk your eyes out just a bit. It's not enough to break the entire film's stride, but it's still noticeable enough to drop a point in the audience health score. Thankfully, you won't find yourself sea sick while watching this one, as there are no nauseous elements to be seen in this stellar 3D picture.
Hotel Transylvania 3: Summer Vacation entertains in every dimension of its visual splendor, so seeing it in 2D would be fine enough. But you really should spring for the extra 3D ticket pricing, as this is a fine example of the sort of experience animated 3D should embody every time out. The team that worked on this film have made this a memorable, eye-popping experience for audiences of all ages, and it deserves to be enjoyed by all who'll take it.
This poll is no longer available.
Be sure to visit our full To 3D Or Not To 3D Archive.
Your Daily Blend of Entertainment News
Senior Movies Contributor
CinemaBlend's James Bond (expert). Also versed in Large Scale Aggressors, time travel, and Guillermo del Toro. He fights for The User.