Why The Shazam Trailer Didn't Include Any Action Scenes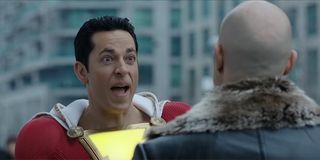 At Comic Con over the weekend, we finally got a proper look at the next two films in Warner Bros.' newly named Worlds of DC cinematic universe, including next April's Shazam! The teaser trailer for Shazam! previewed a movie that is completely different tonally from what we've gotten from DC so far, while also looking like something fun and unique among the crowded superhero marketplace. One thing the teaser trailer didn't really have though was any real action scene. Shazam!'s director, David F. Sandberg, addressed this concern, with the reason being that it's simply too early. Take a look:
That makes total and complete logical sense. Shazam! wrapped filming in May, but there is still a ton of post-production work to be done to get this movie ready for its April release date. Action scenes are obviously going to be pretty effects heavy and that stuff takes time. The fact that the action scenes are not ready to show should not really be surprising or in any way worrisome. This is a superhero blockbuster, there will be plenty of action. And, as David F. Sandberg responded on Twitter, this was just a teaser. Teasers are just that: teases. They aren't meant to show everything. Teasers are just designed to whet your appetite for the main course still to come. We will get a proper trailer in time (paired with December's Aquaman perhaps?) and that will showcase more of the action that will be in this film.
Although the Shazam! teaser trailer didn't show any big action set pieces, it still had some heroics in it. We got to see the young Billy Batson giving some bullies what they had coming to them, and once he gained his powers, we got a bit of him stopping some robbers. The teaser also hinted at a battle with Mark Strong's Dr. Sivana, but just enough to let audiences know that this is the bad guy, and that the strength of Hercules alone will not be enough to defeat this foe.
Although the lack of action scenes was primarily a practical decision, I think it was ultimately a smart one. For one thing, fans of superhero movies are highly critical and with DC's ahem, black eyes in such matters, it's probably best to not show something until it is truly ready. The other thing about holding back on the action in the teaser is that it allowed it to focus on character. Shazam is, other than maybe Cyborg, the least well known of any DC hero introduced so far in this recent run of films. The teaser acted as a primer for audiences, letting them know that this is a kid who meets a wizard and gets the powers to turn into a grown up superhero. His whole origin was condensed into less than three minutes. The teaser also showed audiences that this is an entirely different hero and movie than what they are used to from DC. The humor and the tone are the selling points here as much as any fist fight.
Shazam! bolts into theaters on April 5, 2019. For all the latest from the Worlds of DC and all your movie news, stay tuned to CinemaBlend.
Nick grew up in Maryland has degrees in Film Studies and Communications. His life goal is to walk the earth, meet people and get into adventures. He's also still looking for The Adventures of Pete and Pete season 3 on DVD if anyone has a lead.
Your Daily Blend of Entertainment News
Thank you for signing up to CinemaBlend. You will receive a verification email shortly.
There was a problem. Please refresh the page and try again.