Karl Urban Thinks The Star Trek 4 Salary Negotiations Will Work Out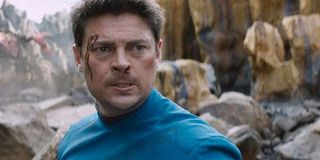 There has been a lot talk about Star Trek 4 over the last few months, and recently we learned the highly-anticipated flick might not happen after all, as some of the cast members have not signed on for the upcoming movie. Namely, reports have indicated that there are some snags going on right now as both Chris Pine and Chris Hemsworth are unhappy with the studios' attempts to renegotiate their contracts. According to other Star Trek franchise actor Karl Urban though, the rumors may not be as dire as they formerly seemed. In fact, Urban went so far as to tell fans at Trekonderoga that he's "confident" things will work out. Per the actor:
There's been a lot of back-and-forth talk when it comes to the status of Chris Pine and Chris Hemsworth. Initially it seemed that the situation was a bit dire, as reports indicated both Chris actors had "exited talks" with Paramount Pictures and Skydance Media, although other major cast members involved with the movies had worked on closing deals to return. Now, Urban seems to be indicating that the negotiations may not be great right now, but he says he is confident everyone will be able to get on the same page at some point to make more movies.
Speaking during a panel Q&A (via Trek Movie), Karl Urban was pretty open regarding the fact that he wants to come back for Star Trek 4 and that the general gist among the cast is similar. He also said at Trekonderoga that there is a script and the movie is expected to shoot in the U.K., where director S.J. Clarkson, who was announced back in April, is based.
Star Trek 4 will already be missing one important cast member if and when it does come together. Anton Yelchin played Pavel Chekov in the first three movies. However, the actor passed away in 2016 during a horrible accident involving a recalled automobile part. In the time following, series producer J.J. Abrams said the role of Chekov will not be recast if and when a fourth Star Trek movie is made.
As it stands, if Chris Hemsworth ultimately opts not to return for Star Trek 4, we're assuming the movie could be rewritten to not include the actor, who plays James T. Kirk's father in the series. (The initial script was expected to alter timelines in some way to bring in the popular Marvel actor once more.) However, losing Chris Pine as James T. Kirk would present plenty of challenges for the franchise, and we'll have to wait and see whether or not the studio would be willing and able to go that route without polarizing the fanbase for the movies.
Regardless of Karl Urban seemingly feeling unworried about the future, other members of the Star Trek franchise, including John Cho, have mentioned they are less in-the-know about what is going on with Star Trek 4. So, we'll just have to wait and see how this particular issue pans out.
Reality TV fan with a pinch of Disney fairy dust thrown in. Theme park junkie. If you've created a rom-com I've probably watched it.
Your Daily Blend of Entertainment News
Thank you for signing up to CinemaBlend. You will receive a verification email shortly.
There was a problem. Please refresh the page and try again.